Northwoods Sporting Journal
New England's Premier
Hunting, Fishing, &
Outdoor Magazine
The Northwoods Sporting Journal is Maine and the Northeast's most exciting, informative monthly sporting magazine. Featuring columns and stories from over 50 of New England's best outdoor writers, The Northwoods Sporting Journal offers fishing and hunting stories and information dealing with Maine's outdoors.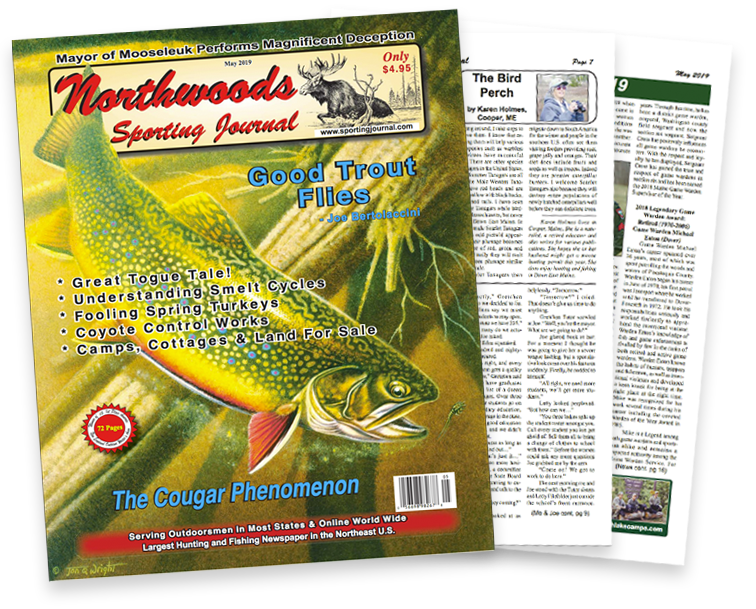 Subscribe Today
For anyone who hunts, fishes, or simply enjoys the great outdoors, a subscription to the Northwoods Sporting Journal is the monthly gift that maintains the all-important connection to the people and places that mean the most to outdoors loving people.
Great Tips Every Month
Each month in the Sporting Journal, the most comprehensive sporting magazine in the Northeast, more than 50 outdoor writers share with you not only their memorable outdoor adventures but the best way to do things, whether it's stalking a big buck, seducing a top-feeding brookie, or simply mending a busted boat trailer.
Stories from Maine Hunters & Fishers
The outdoors people who write for the Sporting Journal have done it all. Seasoned hunters and anglers, they, like all sports people, love to share their stories. They have them in spades. For the price of a subscription, they take you along every month of the year. Don't miss an issue of the Sporting Journal, the most comprehensive sporting magazine in the Northeast.
Something for Everyone
Men, women, children, fishers, hunters, hikers, or kayakers, the Sporting Journal has something for anyone whose recreational pursuits fall under the Great Outdoors' broad mantle. Check us out! You'll agree.
Personality From a Range of Writers
Our loyal readers, those who have been aboard for more than 25 years, will tell you that the Sporting Journal is a hunting and fishing magazine with "personality." It's true. It's no accident.
Unlike other hunting and fishing publications that rely on a repetitive publishing formula, we pride ourselves on letting our writers "have their voice." Unpredictable, opinionated, humorous, flinty, and even outlandish, at times. But never boring!
Enjoyable Cover to Cover
Many readers tell us they can't wait each month for their Journal. They follow the hilarious fictional adventures of Me & Joe, pore through the Outdoor News Section to get up to speed on outdoor issues, search the ads for Marty the Moose, or read their favorite monthly columnist. Entertaining and highly informative, the 72 pages of the Northwoods Sporting Journal are the best bang for the buck when it comes to outdoor reading material.
Don't take our word for it. Ask one of our longtime readers, or check out the coffee tables at any deer camp or sporting lodge, or, yes, even the outhouse! Like a faithful old gundog, the Journal hangs around. There is a reason for it.
Subscribe Now
Advertise Today
The Northwoods Sporting Journal is where advertisers connect with the outdoor community to target potential customers.
Over 700 Stores in Maine
The Northwoods Sporting Journal is sold at more than 700 large and small retail outlets throughout northern New England. It is the most comprehensive sporting magazine in the Northeast.
Over 10,000 Monthly Readers
The combination of newsstand sales and mail subscribers gives the Sporting Journal a combined monthly circulation of about 10,000. Our time-tested "shelf life" at sporting lodges and outfitters makes our actual readership much more. Don't take our word for it! Ask a sporting camp owner. Take a glance at the lodge's nearest coffee table or reading nook. The Sporting Journal is the most comprehensive Sporting Magazine in the Northeast.
Readers in New England & Canada
Although the Sporting Journal is the outdoor read anywhere in northern New England and the Canadian Maritimes, we have many subscribers in Massachusetts and other areas of New England.
Print & Digital Options Available
The printed version of the Sporting Journal continues to be the flagship of our outdoor communication mediums. However, our new, improved website makes our digital version of the magazine available to all. Best of all, there is no charge for the digital issues. The Sporting Journal is the most comprehensive Sporting Magazine in the Northeast.
Like a topline set of truck tires, this gives your advertising dollar extended mileage. Advertise in the digital magazine and on the website itself. Contact us at 207-732-4880 or email [email protected] for prices and more information.
Long Shelf Life & Wide Presence
As we like to say, "The Sporting Journal has a shelf life. It hangs around longer than an old wool hunting shirt or tired gun dog beside a fireplace."
We like to think that this shelf life is a product of our publication's personality, thoughtful, seasoned outdoor writers, and exciting advertising displays. Distributing free issues of expired Journals at New England sportsman shows and other outlets help that shelf life, too.
Advertise Now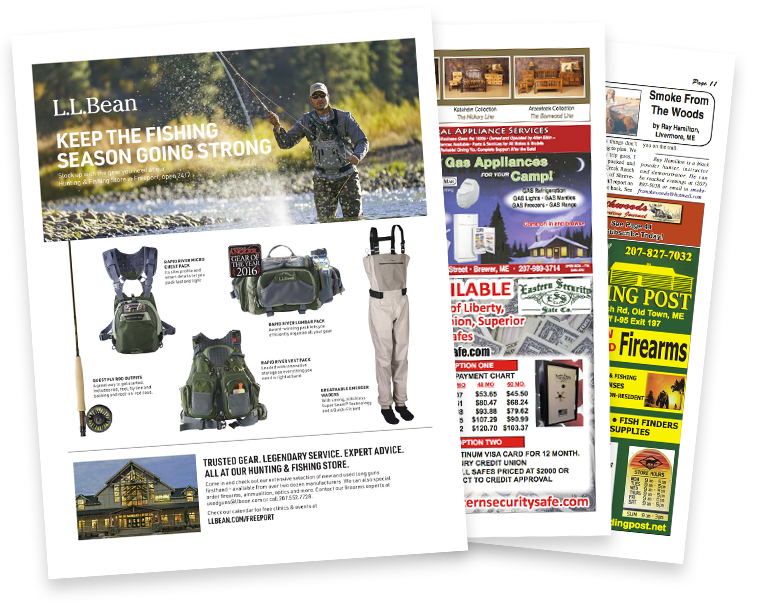 Photo Gallery
Photos are always worth 1,000 words, especially photos of happy people with big fish & critters. Send your proud photo to [email protected]. You might make the gallery!
View Photo Gallery