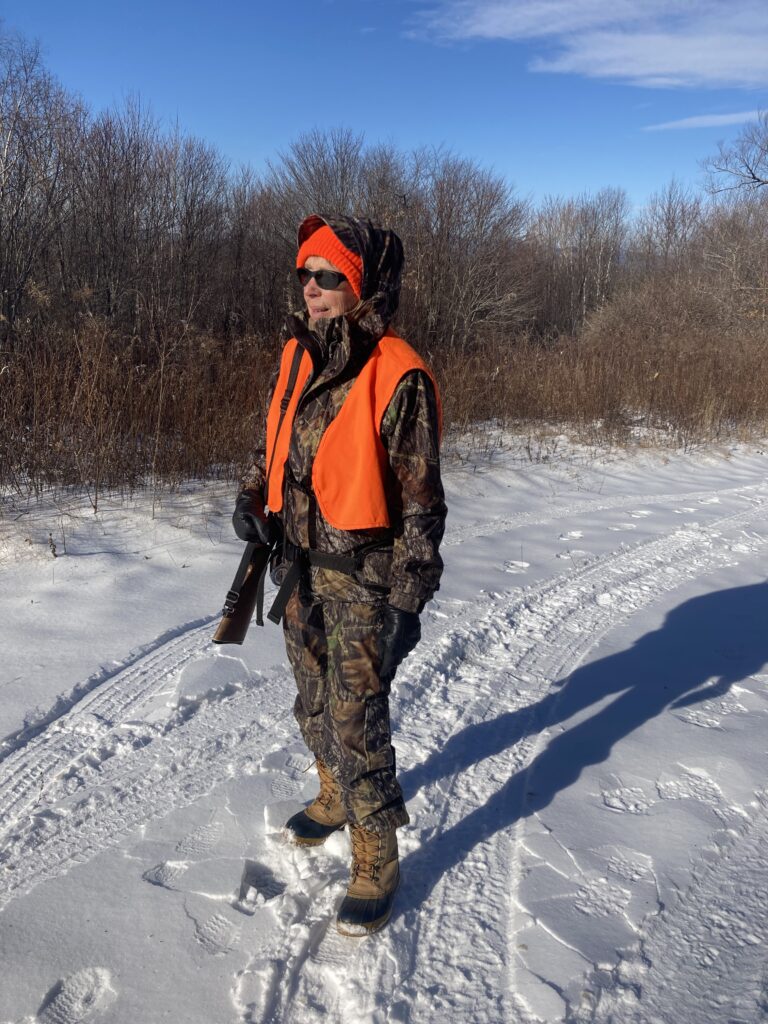 By V. Paul Reynolds
Wives Who Hunt
Probably not a politically correct title for an article in a post-modern, gender-confused culture, right?
After all, many women – married or not – simply take up hunting because they want to, not because their significant other sparked their interest, or brought them along in the blood sports.
Historically, women, though a minority in the hunting community, have been hunting for years. According to an article in the Alaska News, pioneer Alaska had its legendary female hunters from the early days. Nellie Neal Lawing, known popularly as Alaska Nellie, and Fannie Quigley were widely known and respected for their hunting and outdoor skills.
Famous hunting writer Jack O'Connor, though he rarely mentioned it, hunted often with his wife Eleanor.
Early Days
And in the early days of Maine's booming outdoor recreation industry, our legendary "Flyrod Crosby" was Maine's first Registered Hunting Guide. The lady from Phillips was best known for her skills with a fly rod, but she also knew her way around the deer woods and hunting camps.
Although women have hunted for years in Maine, they were not very visible in the popular hunting
narrative until a national hunter survey revealed some stunning news. Licensed hunters for the first time in America were on the decline. Suddenly, in hopes of stemming the tide and safe guarding the hunting heritage and the very conservation model itself, the addition of female hunters to the hunting community became part of the public focus. Manufacturers of gear and hunting apparel and popular outdoor media began to include the woman hunter.
Today, women hunters represent the fastest growing demographic of the licensed hunting community. Ten percent of this country's 11.1 million hunters are women.
Hunting wives are part of this ten percent demographic. This slice of the statistical pie is the focus of this article for a couple of reasons: 1) The author's experience with women hunters is limited to his time in the deer woods with his wife 2) Marriage is a unique interpersonal dynamic with its own set of parameters and boundaries. 3) Most of the aging male hunters that the author knows, who hunt with a woman, do so with their wives. Fifty years ago, co-habitation was a rarity; couples got married.
Wife Diane
My wife Diane took up hunting late in life after retiring from the grade school classroom in her mid 50s. It was her decision to hunt, not mine, there was no arm twisting. Like me, she always enjoyed the solitude of the woods. She said that she witnessed the passion that deer hunting held for me and wanted to be part of that. And the idea of harvesting healthy wild meat for her family's table was a big factor. Over the years, she has successfully hunted deer, bear, moose, turkeys and elk. It's pretty cool to share the hunt passion with your life partner!
Her marksmanship, passion for the hunt and ethical behavior have always impressed me. And you want to know a funny thing? There have been other marital joint ventures over the years that we do not perform as well together: hanging wallpaper, sharing a kitchen, and reading travel maps, for example. But in the deer woods, we click, and we never haggle about hunt strategies or other facets of the hunt.
Brian Smith, who writes a bow hunting column for the Northwoods Sporting Journal, began hunting with his wife, Joyce, late in life. He writes, "Though Joyce has always fished with me, she did not take up hunting until 2019. She had just retired after 40 years at DHHS protecting children. I get more excited about her harvests than my own and thrilled she is my hunting partner. In only four years, she has taken 4 big bucks, 4 gobblers, 3 coyotes and a big bear. This was her first buck that weighed 190 lbs.
Gun Dogs
Paul Fuller, who writes a gundog column for the Sporting Journal has been hunting upland birds with his wife and their dogs for many years. "My wife is my confidant and my hunting partner.  About 15 years ago, after sitting and reading in a cabin all day long, while I was hunting, Susan decided she was going to hunt too.  The summer following that trip, she bought her own shotgun and her own puppy (Dena).  I never have to ask permission to go hunting.  Susan is always by my side.  We've hunted together in eight states and three Canadian provinces.  And, there is more to come.  I'm so glad my life partner became my hunting partner.  I could not have asked for a better partner to enjoy the upland life."
Erin Merrill
Erin Merrill, who writes Women in the Woods for the Sporting Journal, is a passionate advocate for outdoor women. Here's what she says, " My husband was a deer hunter before he started hunting with me. I didn't necessarily get him into it but I got him outside more.  He bird hunts though and I don't do that. Plus, if we need to watch the kids for whatever reason, he is usually willing to stay home before I am." Carroll Ware, a legendary Maine guide and a former Sporting Journal writer, has been hunting, fishing and outfitting with his wife and business partner, Lila, since their first date. His story: "        Our very first date was a day of fly-fishing and, from there, away we went.  That first day of fishing was on September 8, 1980 and thus hunting season was just around the corner. That first fall we deer hunted together and Lila harvested a beautiful big doe!   And, Ol' "Dead-shot" herself filled her tag last fall with a beautiful 6-point.  It's a good thing that I shot that cow moose to save face!" 
The Wares
Have you considered "bringing your wife along" as a hunter? Let's face it. Male or female, young or old, hunting is not everybody's cup of tea. Either it holds an attraction for you, or it doesn't. In fact, more of my granddaughters demonstrated an early interest in hunting than my grandsons. My sons wanted to hunt not long after they could walk; my daughter wanted nothing to do with it.
There is a chapter in my popular book, Maine Deer Hunter's Logbook called "The Kitchen Pass." In it there is a warning to young male deer hunters about to take the marital plunge. The suggestion is to either marry a young lady who grew up in a hunting family, or, if that is not possible, never marry in the month of November. This will avoid anniversary celebrations during the critical month and make it easier to procure a kitchen pass to cover your absence from the home fires during the fall hunt.
There is an even better option, as Sporting Journal gun dog writer Paul Fuller points out in this article. "I never have to get permission to hunt." Marry a hunter and you'll never have an issue getting away from home. When your wife is your hunt buddy, you have a perpetual "kitchen pass."
 The author is editor of the Northwoods Sporting Journal. He is also a Maine Guide and host of a weekly radio program "Maine Outdoors" heard Sundays at 7 p.m. on The Voice of Maine News-Talk Network. He has authored three books.Online purchase information is available at www.sportingjournal.com, Outdoor Books.
For more articles about hunting, fishing and the great outdoors, be sure to subscribe to the Northwoods Sporting Journal.
For free access to past digital issues of the Northwoods Sporting Journal, click here.