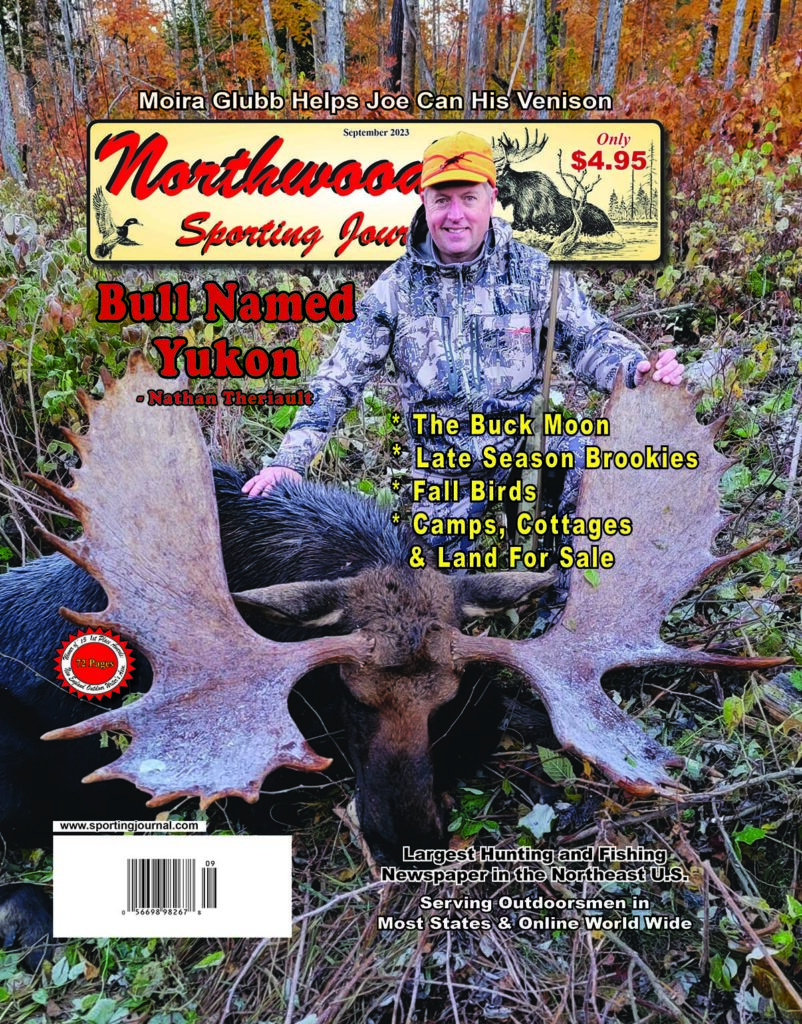 By Nathan Theriault
Being a bush pilot certainly has its perks. Aside from acquisition cost, operating cost and of course everything that goes into achieving a Private Pilot License and maintaining it. With this investment of time and money it has helped us to put eyes on bulls many wouldn't have ever seen. The bull in this case was named Yukon. 
During an aerial survey we put eyes on one of the largest bulls I had seen in almost 8 years. It was two days before the September hunt when I and guide/manager, Dana Valleau, were surprised by the sighting of the massive bull. Looking down they always look bigger; however, he was not your average bull.  
The September week did not come with the success of harvesting Yukon. Even with the general knowledge of his whereabouts, it's still hard hunting in the big woods of Maine. Animals move and we are limited to the abilities of our customers and weather conditions. 
As we neared the October week of the bull hunt, we were on an aerial scouting mission doing a pass around where Yukon lived. I turned to look behind me over the strut of the Aviat Husky and you couldn't miss the large pans of the bull dubbed Yukon sticking out on the ocean of green forest. His great pans and amazing fronts supporting a 55.25in width rack—making him close to, if not over the 200 inch mark. A mark that runs deep in moose hunting for eastern Canadian bull moose. There has only been one bull to achieve this in OMM's 20 plus year tenure.
The Client 
The client for the October hunt was Jeff Hintz. This would be the second Maine moose hunt that Jeff would be on. Jeff, a Wisconsin resident with ties to New England, had been on a past hunt with a good friend from Maine without success. Jeff from that day continued to apply for the coveted Maine moose tag for 13 years.
On the first morning of the hunt, accompanied by my helper and client, we headed to the area Yukon was last seen. My wife Katie also had been drawn for that week. As an outfitter, understanding priorities are very important. I knew that this was a bull that needed my attention. That said, I don't remember feeling lucky very often over the decades, except on this day. 
Moose
After a one mile walk, looking down the straight part of the road at 6:04 a.m.just 10 minutes prior to legal shooting, I saw a moose broadside in the road through the binoculars at about 250 yards. After looking, it was apparent that this was a very big bull. We were able to walk within 150 yards. After setting Jeff up on the sticks, I asked him to look through his scope and give me the reaction of the bull as I called. Being slightly dark still, that would give me a read on other animals, mainly cows that might be with the bull. After a series of grunting the bull looked our way and quickly back to the right side of the road. We then focused our eyes there, which revealed two cows. It was clear we would be able to walk up to less than 100 yards for the shot. At 6:17 a.m., only three minutes into legal shooting, the bull was on the ground. 
It was a surreal moment and one that will be remembered forever. And a moment that will be remembered as the easiest hunt for the biggest bull of my career. It wasn't a 200 inch bull, but very close at a gross score of 198 2/8 and a NET score of 194 ⅜ B&C.
Nathan Theriault is the owner of OMM Outfitters and dedicated to helping clients make great memories and meet and exceed their life-time goals.
For more articles about hunting, fishing and the great outdoors be sure to subscribe to the Northwoods Sporting Journal.