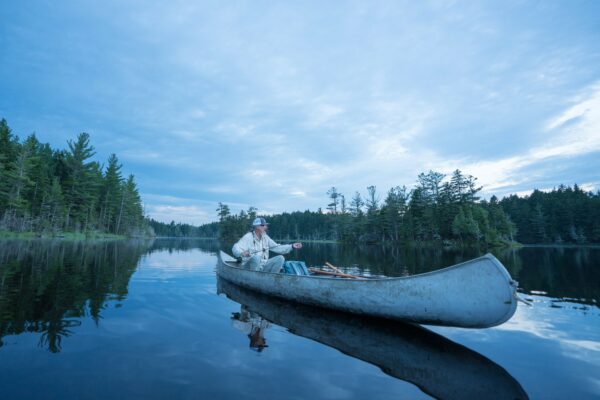 BY Bob Mallard
Having recently written about wet-lining ponds, it reminded me once again just how unique and special Maine's wild native brook trout ponds are. Nowhere in the nation is there a bigger inventory of self-sustaining native trout, charr, or salmon lakes and ponds. It is a kind of experience found in very few other places.
While I learned to fly fish for trout on stocked rivers and streams in New Hampshire and north central Massachusetts. I honed my craft and solidified my lifelong passion for fly fishing on Maine's wild native brook trout ponds.
I was first introduced to Maine's brook trout ponds by a displaced Mainer from Auburn named Craig Hallock. He was working at Colman's Sporting Goods in Woburn, Massachusetts at the time. After fishing together locally, he invited me to northern Somerset County to fish the ponds of his childhood.
Wilder Places
In the mid 1980s, central Maine was a much wilder place than it is today. There were far fewer roads, and a 4×4 was not a luxury, it was a necessity. Armed with an old green and black Delorme Gazetteer, limited and simple camping equipment, a couple of fly rods, and a canoe strapped to the roof, we ventured into the fabled Ten-thousand Acre Tract in my well-worn 1976 Jeep Cherokee.
At every corner, the road got worse with trees encroaching more and more, more and bigger rocks, and puddles and stream-crossings. We passed a few small collapsed old wooden structures, an abandoned 1940s vintage car, and a couple of blown out bridges we had to go around. But what impressed me most was the incredible amount of water: Streams, flowages, and ponds.
There were moose, deer, hare, and grouse everywhere. And the roads were littered with coyote and bear scat. Owls and hawks broke from the roadside trees as we passed, and animals darted across the road as if they were in a hurry to get somewhere, and willing to risk their life to do so. It was unlike anything I had ever seen…
There are roughly 680 self-sustaining native brook trout lakes and ponds in Maine. This represents roughly 90% of the remaining wild native brook trout lakes and ponds in the nation, and is the largest inventory of wild native trout, char, or salmon lakes and ponds in the contiguous United States.
New Hampshire Ponds
To put this in perspective, New Hampshire has just three formally designated "Wild Trout Management" ponds. And while there are several others, the total is likely less than 10 statewide. According to Vermont Fish & Wildlife, "Most of Vermont's brook trout pond fisheries are supported entirely through stocking… A few ponds are not stocked at all." The actual number appears to be roughly 10.
Per the New York Department of Environmental Conservation, "…the vast majority of our brook trout ponds are stocked. Ponds totally sustained by natural reproduction probably total less than 50." The actual number may be closer to 30 than 50.
If there are any wild native brook trout ponds left in Massachusetts, Connecticut, or Rhode Island, they are likely tiny waters on private property.
Outside of Maine, New York, New Hampshire, and Vermont, there are very few self-sustaining native brook trout lakes and ponds remaining.
Of the 680 wild native brook trout lakes and ponds in Maine, approximately 500 are under 100 acres, and fairly referred to as "ponds."
More than 300 of these waters have never been stocked. Another roughly 50 have never been directly stocked, and may or may not have received stocked fish from a tributary source. Of those that have been stocked, approximately 125 have not been stocked in twenty-five years or more.
Roughly 465 of these ponds are formally designated State Heritage Fish waters. They are legally protected from stocking and the dangerous use of live fish as bait.
Remote Ponds
Approximately 115 of the wild native brook trout ponds less than 100 acres are classified as "Remote" by the Land Use Planning Commission (LUPC). This means they are undeveloped and vehicle access, development, and logging are more restricted than they are on other waters.
Close to 50 waters are managed under what IFW refers to as "Quality" regulations. Another 20 are managed under "Trophy" regulations, which includes 1-fish 18" and C&R. Approximately 250 have a 2-fish limit. Roughly 150 are restricted to fly fishing only, and another approximately 90 are restricted to artificial lures.
For me, nothing is more synonymous with the Maine fishing scene than wild native brook trout ponds. This is the one thing that absolutely separates Maine from the rest of the pack, and no matter how hard they try, no one will ever catch up, or even get close.
Add remoteness, an informal trail in, a lack of development, a fly fishing only restriction, and some protective regulations, and it takes things to the next level. If there is anything more unique and special than Maine's wild native brook trout ponds, I haven't seen it…
For more articles about hunting, fishing and the great outdoors, be sure to subscribe to the Northwoods Sporting Journal.
For information about how to purchase Bob Mallard's books, click here.