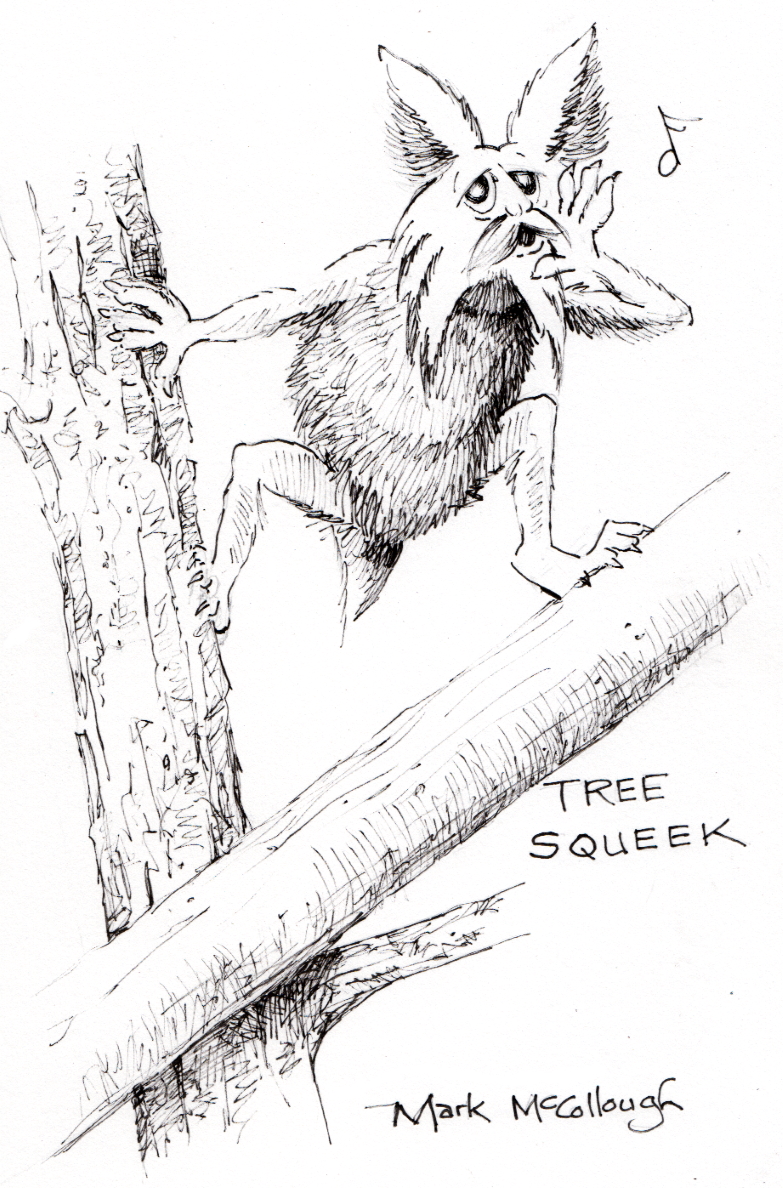 BY Mark McCollough
Jet-black darkness and a fearsome January wind slithered through the cracks in the logging camp. Wool socks and leather chopper mittens steamed by the pot-bellied stove. Their acrid stench mingled with the belches and farts from yet another meal of pork and beans. Kerosene lanterns flickered dimly at either end of the low-roofed cabin. Loggers reclined the deacon seat and buckboard bunks. Some shivered in flea-ridden crazy-quilt blankets while others reflectively smoked their corncob pipes.
Stories were spun about the day's logging. "Maynard sez he ran into a troop o' agropelters down to the cedah swamp. One nearly took off his head with a limb." "Nah, twas nuthin' compared to the Tote Road Shagamaw that snuck up'n me on the beech ridge. He stolen' my chopper mitts settin' on the stump." "In the gloamin' Perley saw two landlocked walruses down to the edge of the lake ice."
The Bullcook
The bullcook roared, "You tenderfoots from Bangor fetch me pails o' water…and don't mind the tree squeeks!" As wind moaned through the pines, the two wide-eyed teens stumbled to the lake peering into every inky shadow and discerning every creak and groan coming from the lumber woods. The walruses barked and groaned in the night.
Tales of mythical creatures living in Maine's dark forests were familiar to Chris Packard, a high school teacher at Bangor High School. He is a descendant from the famed Packard's Camps of Willimantic. As a lad, he was sent on fool's errands to chase sidehill gougers, peltin thumpers, wedge-ledge chompers, freshwater tree squeeks, and the occasional will-o-the-wisp.
Chris caught glimpses of some of these beasts during his youth. Later in life he employed his skills as a biology teacher and history sleuth to track each critter down and write us a field guide, of sorts, to help identify some of these imperiled species. His book comes just in time before these fantastical members of our fauna and folklore were forgotten. Chris provides plenty of fodder should we want to spin some yarns for the next generations of Mainers. Mythological Creatures of Maine is Chris' new book (Island Press/Amazon $26.95; 187 pages). In writing this tome, Chris intends "to save them all and to bring them back if I can."
Some of these creatures are very much alive today in Northwoods hunting camps, tales told around the Scout's campfire, and around the wood stoves in St. Francis, Maine. Paul Bunyan wasn't the only tall tale to come from the Maine woods. Many of these mythical creatures were brought here by our English and French forebearers and the Wabanaki nations before them. Some were born of fear, others of humor, and some created out of unexplained phenomenon in the lumberwoods. They are as real today to a wide-eyed Scout on an Allagash canoe trip as they were to a wet-behind-the-ears lumber boy from Bangor a century ago.
Snow Snakes
Consider one of my daughter's favorites, the snow snake. Chris describes how they are active in winter and hibernate in summer. Their white camouflage hides them from their prey (partridges and snowshoe hares). They are rarely seen, but have been known to pop up from under the covers on a January night (a white sock on your hand works well!). Their tracks and burrows are frequently seen along the edge of frozen lakes frequented by ice fishermen. (Chris explains how "smaller snakes often leave yellow holes and tracks in the snow.")
Another one of my favorites is the Tree Squeak. I've heard them many times high on the ridge when closing out a day of deer hunting. Few have ever seen one of these canopy-dwellers. Once I got a quick glimpse of a real one at the Eastern Maine Sportsmen's Show. Jack Dudley of the Alexander-Crawford Historical Society in Washington County has possession of the only preserved specimen. He was once given three dead Tree Squeeks by a Micmac friend. The wind blew them from their home tree and they starved to death on the ground.
Wedge Ledge Chomper
Some of the fearsome creatures would still put "the fear o' God" into a grown man. One such giant is the Wedge-Ledge Chomper. You've seen signs on them on the flanks of Katahdin or Tumbledown Mountain. These fearsome beasts carve gouges into rock ledges with a bulldozer of a mouth. Their foraging activity leaves tiers or steps in the side of the mountain. They eat rocks, but no one knows what nutrition they gain from Maine granite. A population still occurs on the west end of Sebec Lake. They are shy and hard to find, freezing motionless like a rock until hikers pass by.
Chris Packard describes a host of other beasts – the Dungavenhooter, Dingmaul, Kaput bird, Lunksoos, Pamola, Side-hill Gouger, and Wamfahoofus – many of which have been known to the Packard clan for at least a century. Some think that many have gone extinct, but not Chris. A few species went with the Maine loggers to Minnesota and points further west. Like the legendary Youmistit, many are shy and elusive denizens of the North Maine Woods. Chris and I think they are still there. One simply has to spend more time in the deep woods. get lost at night, look for them out of the corner of your eye, and listen for them with hands cupped to your ears.
Mark McCollough once had a dream about a Will-Am-Alone while hunting in Hampden, Maine. He can be contacted at [email protected]
For more articles about hunting, fishing and the great outdoors, be sure to subscribe to the Northwoods Sporting Journal
For free access to past digital issues of the Northwoods Sporting Journal, click here.