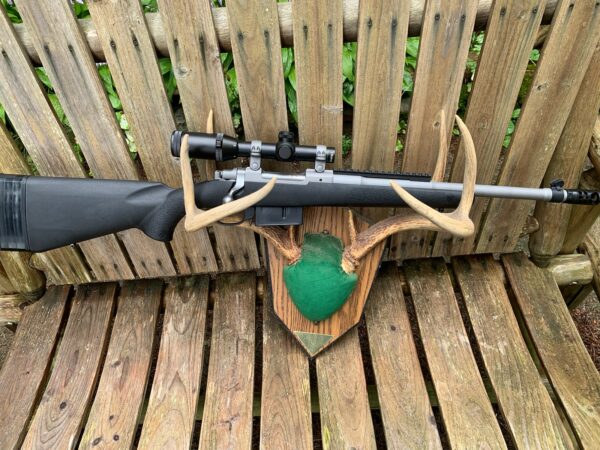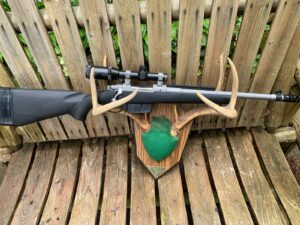 By Tom Kelly
It's that time of year again. The time of year we all wait for. I am of course talking about hunting season. The days are cooler, the nights are getting chilly, and our thoughts are consumed with filling the freezer with venison and hanging a big rack on the wall. Most of the major manufacturers have new offerings for us to covet. In the limited space available in this column, I am going to feature three rifles that may appeal to different types of hunters with different needs.
Ruger American
The first rifle is not brand new, but continues to offer new features, calibers and packages. I would call this an "every man/woman rifle". I am referring to the Ruger American. It is a reasonably priced, no frills, full featured rifle. Some of the features include:
High performance at a reasonable price

Adjustable Marksman trigger from 3-5 lbs

Factory bedded action

Free floated barrel

A great price.
Polymer stocks and matte finishes do not appeal to everyone. There are still some hunters looking for heirlooms to pass on to sons, daughters or grandchildren. For these discriminating sportsmen, the next rifle checks all of the boxes. I will concede that if this rifle interests you, the price tag reflects the craftsmanship on this work of art. The rifle is the Winchester Super Grade:
Fine fit and finish

Pre 64 style action

3 position safety

Claw extractor

MOA trigger system for clean, crisp pull

Free floated barrel

AAA or AAAA maple – The number of A's denotes the complexity of the grain pattern

stock and bolt handle are finely checkered.

Bolt body is jeweled
This rifle is equally at home in a display case or a tree stand.
We have discussed the budget end of the firearm spectrum and the collector's end.
Entry Level Deer Rifle
Now let's discuss the entry level deer rifle. I have never been a big fan of light caliber guns for young shooters. I believe that if a new shooter is taught the fundamentals of shooting, they can and will master a rifle in a major caliber. No, I am not suggesting a .375 H&H for a first-time hunter. However, I also am not in favor of a young hunter shooting deer with a .223 or turkeys with a .410 because they are afraid of a gun. I AM a big fan of single shot rifles for a new hunter. CVA offers a very reasonably priced full featured rifle called the CVA Scout. It has:
100% ambidextrous synthetic stock

Crush Zone recoil pad

Dura sight scope rail

Reversible cocking spur

6.3 to 7.5 lbs – depending on caliber and barrel length

14" length of pull
This rifle is available in most popular calibers and some that are cutting edge like .350 Legend, .444 Marlin, .450 Bushmaster, .35 Whelen. It is also very reasonably priced.
This list is by no means all-inclusive but intended to give you a peek at what is available. I am personally looking forward to the new Merlin rifles that will be released in the fourth quarter of 2021 by Ruger.
Whether you go afield with your old trusty .30/30 or a brand-new high-tech precision modern sporting rifle, remember the safety basics. Never point your gun at anything you do not intend to destroy. Your rifle scope is not a set of binoculars. Know your target and what is beyond. Florescent orange saves lives. Keep your finger off the trigger until you are ready to shoot. Have a safe and enjoyable hunting season. Take a new hunter with you. Pass along all your knowledge to the next generation and come see us at the lake.
Tom is a Registered Maine Guide. He is the owner/operator of Shamrock Outfitters in Orient Maine with his wife Ellie. He is a retired police officer as well as a retired manager from two major firearms manufacturers. He is an NRA Certified Instructor as well as a Hunter Safety Instructor in Maine, New Hampshire and Massachusetts. You can reach Tom at Shamrock Outfitters (207) 694-2473. Please visit our Facebook Page: Shamrock Outfitters and Properties and come visit us on East Grand Lake.
For more articles about hunting, fishing and the outdoors be sure to subscribe to the Northwoods Sporting Journal.
For free access to past digital versions of the Northwoods Sporting Journal, click here.