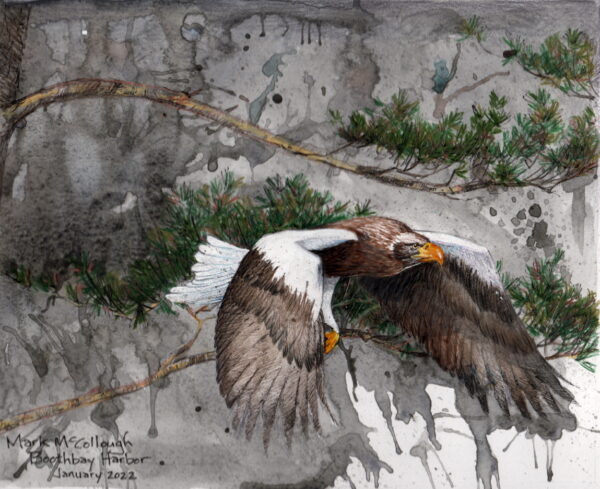 By Mark McCollough
Maine bird-watchers started the year with the sensational arrival of an exotic Russian visitor. A Stellar's sea eagle was sighted in late December and early January in Georgetown and Boothbay Harbor. By the time of the publication of this article, it may take up residence in Maine or be anywhere between California and Newfoundland.
This bird is rarer than rare. It shouldn't be on this continent, let alone in Maine. Only a few thousand pairs of Steller's sea eagles nest on the Kamchatka Peninsula in Siberia. Rarely, one will wander into the remote Aleutian or Pribilof islands in Alaska. As the eagle flies, this vagabond is 5,000 miles away from home.
Long Way from Home
The eagle's mind-boggling travels are closely tracked by birders hoping to see the foreign visitor. It was first observed near Denali National Park in central Alaska in August 2020. In March 2021, the same eagle was possibly photographed at a reservoir near the Gulf Coast in southeastern Texas. In late June and early July 2021, the sea eagle turned up on the Restigouche River in northern New Brunswick. From there, it ventured to sites on Quebec's Gaspe Peninsula in August.
After several months of evading crowds of binoculared humans, it reappeared in Nova Scotia in early November 2021. Birders were gobsmacked by its appearance along the Taunton River in Massachusetts before Christmas in 2021. This individual eagle is identified by a distinct white spot on its left wing. All but the Texas sighting have been confirmed to be the same eagle.
The Steller's sea eagle is the B-52 Stratofortress of the bird world, and it is among the largest birds of prey on the planet. Reaching weights of 14 to 21 pounds, the Steller's dwarfs the bald eagle (7 to 14 pounds). The Steller's wingspan spans 6 ½ to just over 8 feet compared to the bald eagle wingspan of 6 to 7 ½ feet. Like all raptors, females are larger than males. No one knows if the wandering Steller's sea eagle is a male or female, but birders describe it as "one honkin' eagle!"
The Search
This was a bird not to be missed after working on eagle conservation all my career. Five of us crammed into a car for a weekend search for this rarity. We headed to Boothbay Harbor the morning after a sparkling snow blanketed the coast. Birders briefly glimpsed the eagle flying at sunrise but no one knew where it went. We searched likely spots for an hour without luck including the shoreline of Southport Island where Rachel Carson spent summers.
We spied a massive eagle in a pine, and I knew in an instant that it was the Steller's. It was HUGE! It sat over four feet tall; a real beauty. It's out-sized, tangerine-orange beak gleamed in the morning sun. Its shoulders were broad with distinctive white wing epaulets that contrasted with its chocolate-brown body. The sea eagle's white bloomers and massive talons were visible as it moved on the pine branch. Seeing a beautiful bird this rare and so close to Rachel Carson's summer home, I could not help but be reminded of her writings about a child-like sense of wonder in observing nature. Our little birding group was awestruck. It was a special and unforgettable experience.
We watched through a spotting scope for about a half hour before sharing the eagle's location on our cell phone. Within 15 minutes, troops of birders materialized along the shoreline bristling with binoculars, spotting scopes, and 3-foot telephoto lenses. Some walked near the eagle's perch with their cameras and flushed the eagle. Poor birding ethics!
The eagle flew about a mile east and out of our view. Cell phone posts revealed that birders saw it land in a pine that was barely visible across the bay from the Maine Aquarium. About 50 birders were assembled at the Aquarium among a forest of tripods and spotting scopes. We were disappointed again to watch aggressive photographers invade the eagle's sanctuary and flush it again. This time it caught a thermal with a bald eagle and two ravens and soared far out of view to the east – not to be seen for the remainder of the day. Who could blame it for seeking some peace and quiet?
It was a field guide moment to watch the Steller's sea eagle in flight next to a the bald eagle. Its exaggerated, massive beak, brilliant white wedge-shaped tail, white wing patches, and wings as big as a barn door made the eagle look cartoonish in flight.
Bird Watcher's Delight
The now-famous Steller's sea eagle is swelling the ranks of birders in Maine. Its movements on the coast are tracked closely by the Maine media. Thousands of people follow several web sites and share their lucky observations in real time. Hundreds from all over the United States have booked flights to Maine to find the eagle. Can you love a bird into oblivion?
The gadabout Steller's sea eagle is either very, very lost or out for a great adventure. Vagrant birds that wander far outside of their native range provide brief thrills for those wishing to add it to their bird life list. Away from their native habitat, food, and mates, their chances of survival are slim.
The Steller's sea eagle may be different and find the coastline of northeastern North America to it's liking. The spruce-studded, rock-bound, icy coastline is similar to its Kamchatka home. One Steller's sea eagle reportedly spent a decade near Juneau, Alaska. This Steller's may have nested with a bald eagle. A hybrid-looking juvenile eagle was spotted in British Columbia. In Maine, there are plenty of bald eagle consorts to fall in love with. Your match-making guess is as good as mine.
Mark McCollough is a retired wildlife biologist who lives in Hampden, Maine. He can be reached at [email protected]
For more articles about hunting, fishing and the great outdoors, be sure to subscribe to the Northwoods Sporting Journal.