Ice Fishing Hotspots in Maine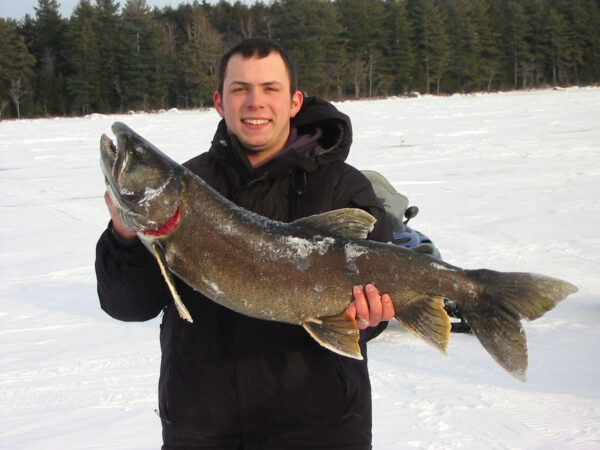 From Fisheries Resource Supervisor Jim Pellerin
Where to fish in January: For the earlier part of the season, December through mid-January, anglers should target smaller-medium sized waters (<1,000 acres).  Waters in this category generally have safer ice, and in this part of the state many of the larger waters like Thompson Lake, Kezar Lake, Great East Lake, etc. don't fully set-up with ice until the second or third week in January.  Sebago is typically our last lake to get ice and it often does not fully set-up, although areas like Jordan Bay and the Station typically have fishable ice for a good portion of the season. 
Brook trout and/or salmon are great early season species to target. Check the annual stocking report online for fall brook trout stockings to narrow down your list of places to try, these fall stockings are numerous throughout the region and there is sure to be a few waters close to home.  Some good bets for early season salmon in the region include: Mousam Lake (Shapleigh), Moose Pond (Bridgton), Kezar Lake (Lovell), Keoka Lake (Waterford), and Bryant Pond (Woodstock).  Rainbow trout are also a good early season species, but they also tend to persist longer into the season than either brook trout or salmon.  Some good waters for rainbows include: Stanley Pond (Hiram), Kennebunk Pond (Kennebunk), Crystal Lake (Gray), Middle/Upper Range Ponds (Poland), and Worthley Pond (Peru).
January
From Fisheries Resource Biologist Wes Ashe
With only a handful of days left in 2022, it's now time to venture down in the cobweb-filled basement to tune up the auger, change the hooks on your trusty traps, and track down the aging DeLorme to select a water for January 1st – the traditional start of the ice fishing season.
Where to fish in January: For fast action, early season trout fishing in central/Midcoast Maine, we recommend Halfmoon Pond (Prospect), Charles Pond (Georgetown), Pinkham Pond (Alna), Caesar Pond (Bowdoin), Jamies Pond (Manchester), and Minnehonk Lake (Mount Vernon). Even some of the Region's moderate to larger sized waters like Lake George (Canaan), Hermon Pond (Hermon), Salmon Lake (Belgrade), McGrath Pond (Belgrade), Maranacook Lake (Winthrop), Alford Lake (Hope), and Upper Narrows Pond (Winthrop) provide surprisingly high trout catch rates when fished close to shore with worms/small baitfish in no more than a few feet of water.
January
From Fisheries Resource Technician Jake Scoville
Where to fish in January: January 1st is always an exciting day for Maine ice anglers, as it marks the unofficial start to ice fishing season. Although you may find some December ice, January is typically the month where ice starts setting up on larger water bodies in the Downeast region and opportunity is abundant and diverse.
If you are looking for something a little different than your go-to lakes and ponds this January, the Downeast region has several new ice fishing opportunities that may be just what you are looking for. Upper Spectacle Pond in Township 19, Upper Morrison Pond in Great Pond, and Williams Pond in Township 28 are all new brook trout programs that are small, remote waters. These new trout waters should provide January anglers with fish between 10 and 16 inches. All these remote waters require a little bit of extra effort to get to but could be very rewarding.
If you are looking forward to the chance of catching salmon and lake trout this January, I would suggest a few of the classic Downeast waters. West Musquash Lake in Talmadge (salmon, lake trout), Cathance Lake in Cooper (salmon), Green Lake in Ellsworth (salmon, lake trout), Eagle Lake in Bar Harbor (salmon, lake trout) are some of the most reliable salmon and/or lake trout fisheries we have in the region. Waters like Pleasant River Lake in Beddington, Mopang Lake in Devereaux Township, Bog Lake in Northfield, Nash's Lake in Calais, Toddy Pond in Orland, and Spring River Lake in Township 10-SD are all popular waters that anglers regularly catch warmwater species like perch and pickerel, but also catch coldwater species like brook trout and splake. Pleasant River Lake and Toddy Pond are also great places to bring kids because you never know what might come up through the hole.
Fishing tips: Be the first on the lake. Well, maybe you don't need to be the first, but making sure you get on your favorite lake early could be the difference in catching a few more fish. For instance, a bright sunny day may not be the best day to target salmon, but I have seen (and experienced) the salmon bite the best before the sun rises over the trees and it would be a bummer to miss it. Also, don't be afraid to be mobile. If the fishing is slow at your initial spot (or depths) go and change up your location. It can be tough to pack up and move, but you may just stumble into a hot spot. Being complacent could just ensure you're in for a slow day of fishing.
Reminders: When the calendar flips to January 1 it doesn't guarantee ice will be safe everywhere. Here Downeast, we have coastal waters that could still have thin ice well into January. Take extra safety measures and be sure to check the ice thickness as you make your way to your spot. Lastly, always be sure to check the Maine fishing laws before you head out.
Rangeley Lakes Region
January
From Fisheries Resource Technician Tyler Grant
Where to fish in January: After a warm start to the fall, temperatures have finally cooled off and ice is forming in the Western Maine mountains.  There is some snow in the forecast, and it is time to get out ice fishing. 
Wentworth Pond, or Ironbound Pond depending on where you're from, in Solon is a good bet for opening day ice.  Access is easy via the Hole in the Wall Road and then the West Shore Road.  There is an MDIFW launch at the end of the road that can provide a good place to park and access the water.  This 213-acre, 48-foot-deep pond is stocked with 500 brook trout in the spring and 400 in the fall and 400 splake in the fall giving anglers the opportunity to catch an assortment of excellent coldwater sportfish.  This year it also received 30 adult retired broodstock brown trout as well.  At over 18" long, one of these brown trout would create a lasting memory.  It is also well known for large white perch and smallmouth bass. 
For anglers with kids, there are a couple of great options with fast fishing and easy access.  Tibbetts Pond in Concord TWP is a kids-fishing-only water with two easy access points off rt 16.  The access point at the north of the pond is much less steep and is a good place to bring smaller kids.  Brook trout are stocked in the spring and the fall to provide plenty of action.  Haley Pond in Rangeley is another great place to bring kids.  This 170-acre, 23-foot-deep pond is stocked with brook trout in the spring and the fall and is easily accessed from several locations in Rangeley off rt 4.  Harvey Pond is an often-overlooked kids only ice fishing water right off Rt 4 in Madrid, near Smalls Falls.  It is stocked with brook trout in the spring and the fall and provides an excellent fishery.  All three of these waters are good bets to have decent ice on opening day. Always test the ice for yourself.  
Anglers looking to get off the beaten path and have a pond to themselves might consider Austin Pond in Bald Mountain Twp.  This 684-acre, 34-foot-deep pond will require a long walk or a snowmobile ride along the Austin Pond Road from the Deadwater Road off Rt 16.  Anglers willing to make the trek will find a healthy stocked brook trout fishery, and a wild salmon fishery that produces moderately sized but fat fish.  Austin Pond was opened to ice fishing in 2022, so the ice fishing season is still quite new.  If you do make the trek, take a moment to tell your local biologist about your fishing trip.
January
From Fisheries Resource Supervisor Tim Obrey
There's been very little fishing ice fishing activity so far in the Moosehead Lake Region.  We'll need some cold, calm nights for the ice to set up.  So, stay on the small ponds for now. Waters like Mountain View (Fitzgerald) Pd, Sawyer Pd, Prong Pd, Branns Mill Pd, and Snow's Pd will be the first to have sufficient ice.  They are all stocked late in the fall, so the fish are there. Big Wood Pd in Jackman is a larger body of water, but it seems to freeze earlier than most mid-sized lakes.  Big Wood offers some fast early-season action for splake, brook trout, and the occasional salmon. It's located in downtown Jackman, so access is easy. It's going to be a while yet for Moosehead and other large lakes.  A few of the coves on Moosehead caught last week and held tight during those very windy days. But they are probably not safe.  As I write, there is a significant rain event in the forecast.  This will soak down through the foot or more of snow, and it will delay freezing.  Let's hope for some colder weather on the backside of the storm to tighten up the lakes in the area. In the meantime, check your leaders, start your auger, and prep your gear for the upcoming hardwater season.
---
The extended warm weather has put us behind schedule with ice formation in the Moosehead Lake Region.  Some of the smaller ponds have a little ice but caution is required.  Mountain View Pond, Prong Pond, Brann's Mill Pond, and Sawyer Pond are some early season favorites.  These ponds were all stocked in the fall with yearling brook trout that generally range from 12-14 inches.  A few older fish are occasionally mixed in to sweeten the pot.  The lack of snow in the roads will help anglers fishing Prong Pond and Mountain View Pond.  Anglers can currently drive on the access roads to the boat launches on these ponds. As always, check the ice before venturing too far on the ice this time of year.  It's not worth a cold bath for a fish and better conditions will be here soon.
Penobscot Region
January
From Fisheries Resource Supervisor Kevin Dunham
Where to fish in January: For many winter anglers January 1 is the long-awaited "official" opening of a new ice fishing season. For some, the start of a new year brings anticipation of fun-filled days on the ice with friends and family enjoying the great Maine outdoors. Others may look forward to spending some solitary days on the ice, relishing the opportunity to slow-down and recharge after a long, hectic year. However you choose to kick off 2023, may the year ahead bring you happiness, good health, ice-free holes, and tight lines.
A few possible waters to fish in January include Hay Lake (T6 R8 WELS,) which typically has adequate ice come January. Hay Lake is stocked with brook trout and landlocked salmon each fall to enhance anglers' opportunity to catch one of these coldwater salmonids. Another water, which we believe to be underutilized during the ice fishing season, is Lunksoos Lake in T4 R7 WELS, this waterbody is not the easiest to access during the winter, but those that make the trip are often rewarded with brook trout in the 12"-14" range and no crowds. A third possible water to fish this winter is actually a new opportunity for most in 2023. Little Round Pond in Lincoln has had a special regulation in the past which designated the pond as a "special opportunity water" from December 1 to April 30 for use by persons under 16 years of age or those holding an eligible complimentary fishing license. Information we've gathered from winter creel surveys indicated Little Round Pond was not being utilized during the December through April timeframe. As a result, we implemented a regulation change that takes effect beginning January 1, 2023 which will open Little Round Pond as a year-round angling opportunity for all anglers. A great "new" fishing opportunity close to the town of Lincoln.
January
From Fisheries Resource Supervisor Frank Frost
Where to fish in January: Smaller lakes and ponds have up to seven inches of ice currently but ice thickness varies considerably due to warm weather and high river flows.  Safe ice is unlikely to form the last half of December due to forecasts of above average temperatures.  We are expecting safe ice to exist only on smaller, shallower waters and coves of larger lakes by January 1st.  With this in mind, here are a few waters that should have safe ice on January 1st:
Portage Lake, Portage – a large shallow lake with brook trout, salmon, smelt and several species of non-sport fish
Drews Lake, Linneus – a large shallow lake with brown trout, splake and several species of non-sport fish
Cross Lake, T17R5 – a large shallow lake with brook trout, salmon, smelt and several species of non-sport fish
In addition, I want to highlight those waters that will be newly open to ice fishing in 2023.  Those waters are:  Durepo Lake (Limestone), Trafton Lake (Limestone), and Monson Pond (Fort Fairfield).  These three waters open January 1st to ice fishing. 
Reminder:  Early season live bait availability is oftentimes an issue.  While bait dealers work hard to have inventory for anglers by opening day, supply of live bait can be limited.  Anglers should plan ahead by contacting dealers or make plans to catch their own bait.
---
December
From Fisheries Resource Supervisor Frank Frost
Places to fish in December: A few small ponds are beginning to freeze in far northern Maine, but recent rainstorms are keeping any significant ice from forming at this point. There are a few flowing waters open right now (mentioned in an earlier fishing report), however, flows are too high to fish safely at this time. If the recent warm weather continues its march toward the holidays at the end of the month, there could be some open water chances for those diehards who did not pack away their wading gear. 
Some early season opportunity, assuming safe ice forms in the near future, include:  Mud Pond (Linneus), Arnold Brook Lake (Presque Isle), or Dickwood Lake (Eagle Lake).  These waters are stocked multiple times a year to provide fast fishing for brook trout. 
Other opportunities in Aroostook County this time of year are rainbow smelt waters that oftentimes form safe ice in December.  Scopan Lake (T11R4), Little Machias Lake (Nashville Plt.), and Portage Lake (Portage) all have strong smelt populations that can be a reliable source of live bait or food fish alike.  Safe ice in the early season can sometimes only be found on shallow coves so be sure to check ice thickness before you venture out.
Reminder:  We have a large number of rule changes that will be going into effect on January 1, 2023, and nearly all of those are liberalizations on length and harvest limits. In addition, three of those changes involve opening small waters to ice fishing for the first time. Those waters are: Durepo Lake (Limestone), Trafton Lake (Limestone), and Monson Pond (Fort Fairfield).  These three waters open January 1st to ice fishing.
For more articles about hunting, fishing and the great outdoors, be sure to subscribe to the Northwoods Sporting Journal.