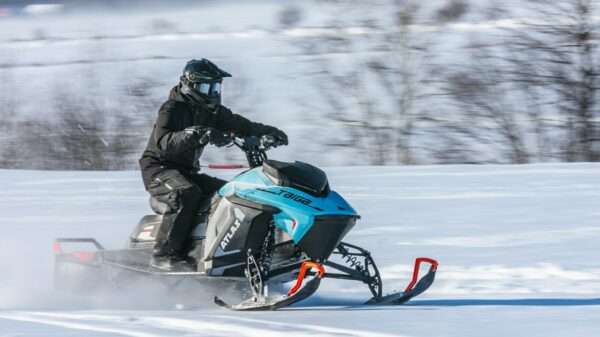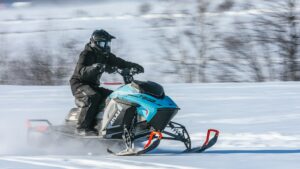 By Rod Fraser
Let's breakdown the comparisons between the Taiga and the other big brand gasoline-powered snowmobile models so you can determine if an electric sled would be a good choice for you.
To those of you who routinely read my column, thank you very much for your support! You may remember back in March of 2019 I wrote a column about a new company, Taiga Motors, of Canada that had designed an electric snowmobile. Fast forward to today and this concept has become a reality and they are rolling out three models and fulfilling orders.
Three Models
They have 3 different models, the Ekko, a 154-inch track mountain sled, the Atlas, a 137-inch track crossover, and the Nomad, a 154-inch track touring/utility sled. According to their latest news, this season we should start to see Taiga Nomads operating in ski resorts across North America as many of these resorts begin to electrify their fleets. In addition to the pilot roll-out, Taiga will be testing the Ekko model's ability to perform in the toughest conditions by conducting extensive deep powder testing in Whistler and Revelstoke.
For those of us who have been following this company, they have also designed a personal watercraft (jet-ski), the Orca, which will be debuting in the summer of 2021.
Comparisons
Let's breakdown the comparisons between the Taiga and the other big brand gasoline-powered snowmobile models so you can determine if an electric sled would be a good choice for you.
Price. The Taiga Atlas model is priced at $15,000 US. Comparing this to the Polaris 600 Switchback PRO S, which has an MSRP of $12,199.00 US, or the Ski-Doo Renegade X at $12,599.00 US. if you add additional features to the big brand sleds, their price will go up, but even so, the Taiga, in general, is a little more expensive.
Range.
The Tagai models have a range on one full charge of 86 miles. When I compare this to my Polaris Switchback Adventure, I know I can get at a minimum of 110 miles. Looking across the different brands and models, the average tank size is 10.5 US gallons. Depending on your model you should be able to achieve between 100 – 200 miles on a full tank. Additionally, you can always fill up on the trail. The Taiga models have a DC fast charge to 80% in 20 minutes but it might be difficult to find convenient charging stations out on the trail today.
Power.
The Taiga models have a standard 120 HP motor or a high-performance motor that can generate up to 180 HP, which is higher than most gasoline engine models. 600cc engines generate 120-130 HP and 800 – 900cc engines generate 160 – 170 HP. If you view their videos on Youtube, it looks like power is no problem, even in deep powder.
Maintenance.
According to Taiga, there is no maintenance required on the battery or electric drive motor.
Other features. The Taiga has remote diagnostics and fully adjustable drive parameters which allow you to tune everything from torque to throttle sensitivity. You can then save your custom modes to match suspension setups and different snow conditions for optimal control and save user specific profiles with programmable limits for speed and power.
Everyone rides differently and values different aspects of a snowmobile's performance. For me, my normal day of riding is 100 – 120 miles with a gas tank fill up on the trail. Unless I knew I could recharge on the trail, I would be reluctant to trade my Polaris in on an electric sled. I do like the quietness of the electric sled and combined with the high power to weight ratio and the increased power of the 180 HP performance option, I find this to be a serious option to consider for the future. If you average less than 85 miles on a ride and operate to and from your home, then the Taiga could be a great option for you. Learn more at https://taigamotors.ca/snowmobiles/
Enjoy your rides! Ride safe, ride right!
Rod Fraser is an avid outdoorsman and twenty-year Navy veteran. Originally from Maine and living in Massachusetts, Rod has written extensively about snowmobiling. visit his website at www.roderickfraser.com.
.
For more articles about hunting, fishing and the great outdoors, be sure to subscribe to our monthly magazine the Northwoods Sporting Journal.
For free access to our digital version of the Northwoods Sporting Journal, click here.