Last Stand at Papa's Point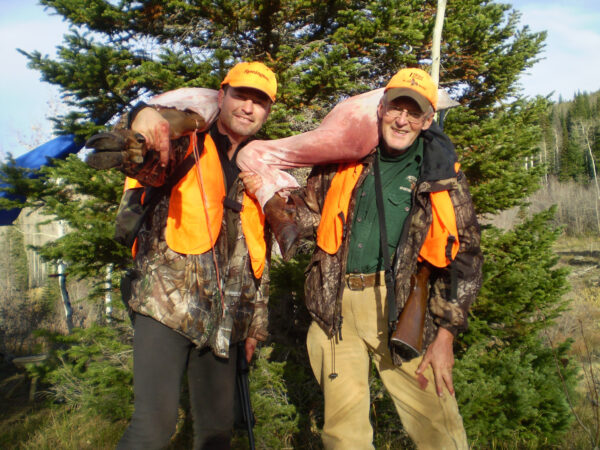 BY V. Paul Reynolds
"How does a man know when he's just too damned old to hunt elk?" I asked.
"Well, sir, when he stops going."
Editor's note: This article first appeared in the Nov.-Dec. issue of Bugle Magazine, which is published by the Rocky Mountain Elk Foundation (RMEF). It is reprinted here with permission of Bugle Magazine.
Look me in the eye," she said, partly insisting and partly beseeching, "and promise me this is absolutely your last elk hunt!"
In 57 years of marriage Diane had never once cornered me like this, at least never over my hunting trips. It caught me flat-footed. She'd always seemed to understand my passion for the hunt. In fact, after retiring from teaching grade school, she took a hunter education course, got her hunting license and started deer hunting with the old .35 Marlin I'd inherited from her dad. Her first hunt was on a beech ridge behind our 19th-century farmhouse in coastal Maine, where she felled a fork-horn buck without coaching.
She took to hunting big time and has managed over the years to kill Maine deer, moose and bear, as well as a Colorado elk. She "got it." It was a rich blessing for me to share life with a bride who doubled as a hunt mate. We've loved sharing the woods and the delights of the hunt.
That only served to elevate the gravitas of her demand this day. She awaited my response to her abrupt and unexpected request.
"Wow! That's a tall order, Di." I took a breath. "You really mean that? You want me to shut the door on elk hunting forever? I don't think that I'm ready for that pledge," I said, trying to read her facial expression.
A somewhat somber kitchen table discussion ensued.
Kitchen Table Talk
Over a cup of coffee and one of her pumpkin cookies, we did what we always try to do when marital tension requires resolution: we talked our way through it. She had some valid points. It wasn't as if I hadn't had my fair share of elk hunts. The average Maine deer hunter is lucky to make that one big Western elk hunt. Tallying up each hunt from my journal for the first time, I was amazed. There were 13 elk hunts in my rear-view mirror. How many elk hunts does a man need, or deserve? These trips aren't cheap, even the backpacking do-it-yourself undertakings. And western Colorado is a long drive from Down East Maine.
"It's the money, right?" I queried, arching my eyebrow.
"It's your age, Hon," she said softly, almost sympathetically. "My Gawd, Paul; you're 81! You have no business sleeping on the ground in those mountains for a week, even if the boys are looking after you."
We were at bedrock. She was worried about me not coming back in one piece, or maybe at all.
She'd been to where I would be elk hunting several times. One season 15 years ago, she and I cooked and schlepped for an outfitter from that area. She'd witnessed the early fall blizzards and experienced the overhanging mountain switchbacks on horseback, the sleep-starved nights on the cold ground, the freeze-dried meals, aching joints and the tough humps with elk quarters. Those are the things elk hunters tend to forget. The long views, golden aspens and warming campfires get top billing whenever we look back in our mind's eye.
Spouses of almost a lifetime know you and your foibles intimately, sometimes better than you know yourself. Her anxiety about my wellbeing during this upcoming elk hunt, and her conviction that I was too old for it, sowed additional seeds of doubt among those that I'd been privately harboring already.
For an elk hunt there are things that you can do to "physical up," and I always worked to condition myself before these tough mountain hunts. But advanced age, and all its immutable physical implications, lurked no matter how much walking or resistance training I did. Mindful of my years, and the attendant aches and pains, I had been asking myself if, indeed, I was up to the challenge.
"Dad, don't give it a second thought," said Scotty, my eldest son. "You're in great shape for your age. Look at all the walking you do. We'll be looking out for you. You can do this thing."
Last Hunt?
In the end, Diane and I agreed that this would indeed be my last elk hunt—but that I was going.
Over the years we'd humped 40- to 50-pound packs a couple of miles uphill into elk country. We'd slept on the ground in one-man tents and lived on freeze-dried meals and instant oatmeal. It would be the same this time, but with one critical and welcome exception. A hired wrangler, Leon, would ferry our overstuffed packs to our campsite with mules and panniers. My boys, middle-aged themselves now, had no compunctions about parting with some greenbacks in exchange for a pain-free hike into and out of elk country, especially if there was meat to pack.
The four of us were smiling hikers as we savored the trek into the creek drainage burdened only with six-pound rifles and 10-pound day packs! The wrangler showed up with our dunnage shortly after our arrival, and we set up camp in a light snow, not unusual during first rifle season in northwest Colorado at 8,700 feet.
Soon a campfire flickered. The Jetboils roiled the hot water that would reconstitute our freeze-dried beef stew. As we huddled about the fireside glow, I took measure of our hunt crew as one of them shared a nip or two from his traveler's flask.
Scott, my airline pilot son, is tough as nails, even at 56. When I walked three miles, he ran six. When I did 10 curls with my exercise spring, he did 100 pushups. Ditto my son-in-law Jacques, another airline pilot and exercise buff who at 60 has the same waist he had at Air Force basic training 40 years ago. The third "youngster" is my middle-aged nephew Paul. A banker and seasoned Maine deer hunter, this would be his first Western hunt. He looked lean, having controlled his diet and pedaled an exercise bike miles each day for months before.
I, the old man who started these family elk hunts more than 20 years ago, am now the outlier. This fact is never spoken, perhaps out of respect, but it's there lingering beneath the surface. A few pounds lighter than normal, with reasonable "wind" for my age, common sense still tells me that I will not be able to make the gut-busting climbs up into the dark timber with these younger men. A few years ago, I did manage to keep up, but it took its toll and was unwise, as I knew on some level even at the time.
Now I wondered, Is Scotty worrying about me? Am I a liability? He constantly nags me to hydrate. He fusses with my tent lashup and improves it.
"Dad, you okay in there?" he calls toward my tent in the morning. Diane had hinted that worrying about me might undermine his good time. He assures me that is not the case—says he is just thankful that I can share this with him once again.
I'm thankful, too. Perhaps more than he can imagine. I'd pledged to Diane that I'd make this last elk hunt relaxing and laid back. I would stick to level ground, maybe tackle a few gradual ascents into the gold-spattered aspen groves. Lots of sitting, waiting for things to happen. That was my strategy. A Maine deer hunter once more, only high in Colorado elk country.
The boys had their game plan all mapped out. They would split up above the drainage in the rocks and dark timber. I had a plan, too: have fun, savor it all while working the creek bed and get home in one piece as I'd promised.
Papa's Point
Papa's Point, 9,000 feet, October 2021
I am hunkered beneath an overhanging pine. Steam rises above the creek. It's a half hour before legal shooting light. The eastern skyline is aglow. Not a breeze stirring. The sun, when it breaks over the top, will be welcome amid the morning chill. It's a joy just to be here, to be alive and full of expectation.
Papa's Point, named after me many years ago by my son Scott, has evolved as our group's common landmark during the hunt week. You won't find it on a topo map, but on Opening Day, Papa's Point is a good place to be. It is also favored by others, some of whom have over the years gotten up earlier and beaten me to it. But not this day. Today the old man—the namesake—has the run of Papa's Point. This spear of land juts above a 100-yard opening along a creek tucked between aspens, scrub oaks and a stand of dark timber to create a natural funnel. If the past is any prologue, scattered elk fleeing the Opening Day volleys may cross the creek near the Point, aiming for this escape route to the high country.
As much as I believe in its strategic value, Papa's Point has never once delivered for me. It has on more than one occasion, however, come through for others in our group.
When this day ends and the October sun dips below Pagoda Peak, I say farewell to Papa's Point having seen not a single elk. No matter. At last light, I picked up my gear. For the rest of the week, the point will be free for the taking for anybody who gets there early enough. With one last glance back, I head up the drainage to camp. When you know in your heart that you probably won't see your favorite hunting perch again, you get to thinking. And you pray for a clear mind in advancing age that will allow you to recall and relive all the memories in this remarkable mountain country.
I spent the week hunting other old-man-friendly spots. In one of them, I shot a large cow when she meandered out of the aspens and paused before crossing a creek bed. Though my boys worked far harder, climbing long in tough terrain every day, I wound up the only one from our party to punch a tag. They were far more deserving of game. It may have been divine intervention. Or maybe it was simply, as they say, "Old age and treachery trumping youth and hard work."
Back at the trailhead, before heading down the mountain, I made a social call on George Clark at his spike tent. George and I had met the previous year and shared a beer while acknowledging our common bond: age. "George, how does a man know when he's just too damned old to hunt elk?" I queried.
"Well, sir," he quipped around his cigar stub. "When he stops going."
"Not sure I will see you next year," I said. "My wife says at 81 it is time to hang it up."
"Hell, I'm 82!" he said with a wide smile.
"And here I was sure that I was the oldest guy on the mountain!" I shot back.
We bade farewell. As I got in the truck he shouted my way, "See you next season, you hear?"
It really wasn't all about the killing of elk, was it? Ultimately, it wasn't even about the coveted elk steaks that we all strove so doggedly to bring back to Maine all those times.
These thoughts struck me during my day of pondering at Papa's Point. It was about the land—the look, the feel and the smell of it. It was about the friendships and kinship and campfires. The atavistic validation that is manifested when you "survive" in tough conditions and share that privation with close friends and loved ones. My swan song at Papa's Point gave me a revelatory glimpse of what I should have sensed all along during my many visits to elk country: it's about just being there.
Looking Ahead
Riding in the pickup down that slippery, deep-rutted mountain road, I looked ahead, not back. A hot shower, a steak and a call home to Diane lay before me.
She would be pleased that her son looked after the old man and that he was coming home still healthy with a heart full of gratitude for elk country and all it has meant over the years. The elk quarters in the truck bed were a welcome bonus, but we all agreed that they didn't have to be there to hone the memory.
No sir, there's never a bad elk hunt.
V. Paul Reynolds is an outdoor writer and editor/publisher of the Northwoods Sporting Journal. He lives on a Maine lake with his wife Diane and winters on a houseboat in the Florida Keys.
For more articles about hunting, fishing and the great outdoors, be sure to subscribe to the