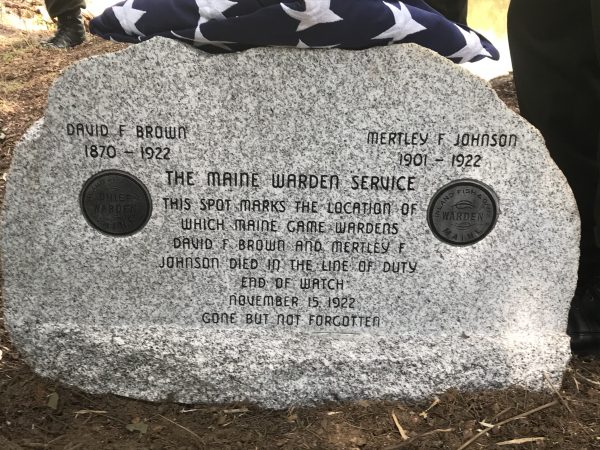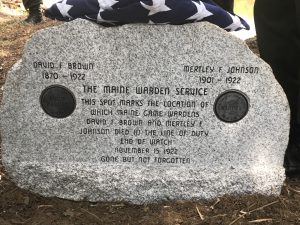 By Kale  O'Leary
In the spring of 1923, closure was finally brought to the case, or so they thought, as the bodies of Brown and Johnson were discovered in the water at Big Bog. One man was found in the Dam, while the other was found downstream.
Throughout the fall and winter of 1922, the State of Maine was in a furor over the disappearance of two Maine Game Wardens that had ventured into the St. John River headlands and had not returned or heard from again. Countless volunteers along with many Maine Game Wardens canvassed this backcountry for months searching for Wardens David Brown and Mertley Johnson.
Cold Trail
The trail appeared to have gone cold for the search parties at Big Bog in T5 R18 WELS, the apparent intended destination for Brown and Johnson. It was here that searchers found a man-made "blind" and several boxes of raisins that are still believed to have belonged to Brown and Johnson. The winter's deep snows added to the challenge of finding either man, and only months later would both bodies recovered.
In the spring of 1923, closure was finally brought to the case, or so they thought, as the bodies of Brown and Johnson were discovered in the water at Big Bog. One man was found in the Dam, while the other was found downstream. Both Warden's bodies were transported to the "Kineo House" on Moosehead Lake where a medical doctor was awaiting to conduct autopsies. The official report for both Brown and Johnson reads "presumed drowning"; however no water was found in either Brown or Johnson's lungs. It can be inferred that the condition of two bodies after spending 6 months in the elements of a Maine winter, made conducting an accurate autopsy very difficult. However, the drowning theory has always puzzled those familiar with this case for many reasons.
First, no water was found in either man's lungs, which likely points to the fact that both men were already deceased before entering the water. Also, Big Bog in 1922 was at most 4 feet deep and would not have been over either man's head. David Brown was a veteran Warden with years of woodsmen experience which makes the drowning theory even less likely as both men would have been weary of crossing thin ice, if there was any on Big Bog at that time. Lastly, to this day no one has ever found the long rifle that David Brown was carrying with him or a revolver that was worn by Mertley Johnson.
Bodies Found
Even the newspaper articles writing about the discovery of the bodies talk of the public's unrest over the deaths being ruled a drowning. Many interviews with locals and trappers of the area talk of "traps" being set for the Wardens. One man even speculated that Canadian poachers had rigged a foot bridge that was dropped as the Wardens started across over Big Bog.
Suspects
An investigation commenced looking for evidence of foul play in the deaths of David Brown and Mertley Johnson. It appears early on that investigators had their sights set on two brothers from Quebec with the last name of "Rodrigue". The Rodrigue brothers were trapping on Big Bog in the fall of 1922 and had set up an encampment in this area. It is said that one of the Rodrigue brothers fled for Canada before the trapping season was over and near the end of November, which would have coincided with the time frame of when Brown and Johnson died. It is said that the second Rodrigue brother stayed behind until the end of trapping season. An investigation was launched in Quebec to locate Brown's rifle and Johnson's revolver, which were believed to have been brought back to Canada by these brothers. Neither firearm was ever located in the investigation.
CONCLUSIONS AND LASTING LEGACIES
After 100 years and no definitive answers, it is unlikely that anyone will know in another 100 years how both men perished. No matter what you choose to believe in this case, David Brown and Mertley Johnson died protecting Maine's wildlife resources, and will always be remembered for this ultimate sacrifice. Their story does not simply end with their mysterious deaths however, as their legacies last into current times.
During the summer of 2020, while completing the Advanced Warden School, new Game Wardens Nick Johnson, Mark D'Elia, Nick Mangino, Corey Cepelak and Steve Milton along with their Cadre staff Wardens Tom McKinney and Josh Beal, placed a stone marker which will stand the test of time and always remind visitors who come to the campsite at Big Bog that two brave Wardens lost their lives here so many years ago.
You can visit the campsite and view the marker placed here by travelling out the Golden Road to mile 88 and then travelling approximately 8 or 10 miles in on a right-hand branch road. Big Bog sits just west of Fifth St. John Pond and is part of the North Branch of the Penobscot River. It can be found on Delorme Gazetteer map number 48.
For more articles about hunting, fishing and the great outdoors, be sure to subscribe to our monthly publication the Northwoods Sporting Journal.