Deer Yards: Can We Save Them?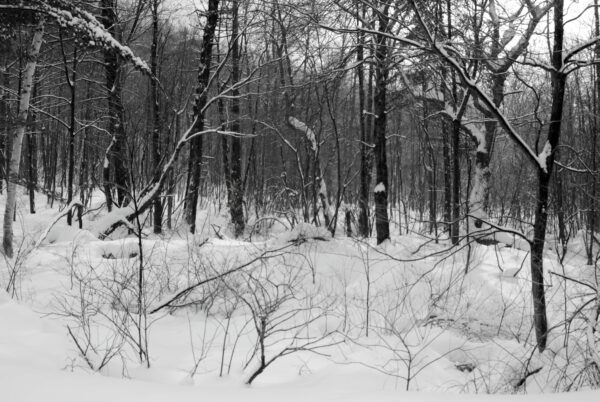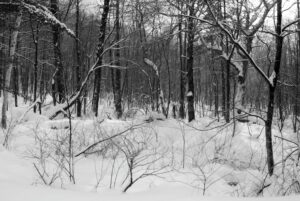 By David Trahan
It is hard to believe, but at one time northern Maine was a world-renowned destination for adventure seeking whitetail deer hunters on a quest to harvest 200+ pound bucks. Any Sunday during the November deer season, trucks and cars would pour out of northern Maine with big bucks tied to the top of cars and whose state license plates covered all the colors of the rainbow.
When I was a kid growing up 50 years ago, our state looked dramatically different. We had no coyotes, bears were scarce and big mature forests covered a big chunk of Maine. The vast majority of land in northern Maine was owned by paper mills and a typical wood cutting operation was most likely a cable skidder, farm tractor, horses or what was called a Jitterbug.
Coyotes and Bears
In 2021, most landowning paper companies are gone, land management companies now rule, coyotes are common and bears are way too abundant. A typical commercial logging operation is conducted with machines costing millions that are air conditioned and operate like a video game in an arcade. The result of these changes is that commercial timber harvests occur on a shorter rotation providing ample bear and lynx habitat, but not so much for wintering deer. As a result of the loss of deer habitat and consequently, lower deer populations, we have lost the corresponding jobs, economy and outdoor culture that goes along with white tailed deer. What remains are some old timers like me who remember the "good ole days". If the white-tailed deer is to be restored up north, we need a fresh approach regarding deer wintering area management over substantial acreages. This new direction will take leadership, courage and a willingness to sacrifice now so future generations can have it better.
What Can We Do?
Last fall, I met with Rep. Johansen of Monticello to discuss his concerns that deer yards in some parts of Maine were disappearing. He asked me straight up: "What can we do to protect our last remaining deer yards in northern Maine?" My answer was: "good question!" After some thought, I introduced what is called "concept draft" legislation. A concept draft means you want to bring an idea before the committee in hopes it will spur a solution through stakeholder discussions. If you find a solution, the concept draft allows a bill to be introduced. Sort of like a Hail Mary.
For three decades, I have worked with some of the best minds in the biologist community in an attempt to protect deer yards. Gerry Lavigne, is the most notable among them. He ran the state's white-tailed deer management program at Inland Fisheries and Wildlife for 30 years and currently serves as SAM's consulting biologist. Few people in Maine are more knowledgeable about deer than Gerry. If anyone could come up with an answer, it would be him, working with his fellow biologists at DIFW. The leadership piece will be mine – I will have to convince Maine deer hunters that this effort can work.
Working with Our Partners at Inland Fisheries and Wildlife
After weeks of meetings with the Department, key Legislators and Gerry, we are ready to move forward with what we believe is the most significant shift in white-tail deer management and deer yard preservation policy ever proposed in Maine.
Currently, deer yards are managed using voluntary cooperative agreements or using protective zoning by the Land Use Protection Commission (LUPC). Cooperative agreements seek to manage timber harvests to benefit deer in wintering areas owned by private timberland owners, and on land owned by the state and managed by the Dept. of Agric. Cons. and Forestry's Bureau of Public Lands. Approximately 200,000 acres of deer wintering areas in the northern half of the state have been managed using these two methods, beginning in the late 1970s.
Unfortunately, the track record for this approach to deer yard protection has not been good. First, this represents only 20% of the acreage that deer wintered in during the 1960s. It is not possible to have a thriving deer population on only a remnant of the deer wintering area base.
The Deer Yard Decline
Second, the acreage placed in LUPC protection was only a fraction of the area deer were using at the time they were zoned. Over time, the timber around these zoned deer yards was cut heavily, which diminished the value of these islanded deer yards. Many of these under-sized deer yards became vulnerable to excessive predation by coyotes. Some no longer hold deer.
Third, the cooperative agreement approach has had its own problems. Timberland owners have been reluctant to commit to more than a token amount of their holdings (about 1 to 3% in most cases) to protect deer. Worse, when the land is sold, the cooperative deer yard agreement with DIFW usually is not part of the deed and the agreement lapses.
Deer wintering areas are dynamic over time. Deer may move up and down the watersheds they winter within. Forest conditions are in a constant state of change, and it is costly to manage timberlands specifically to protect deer wintering habitat. Landowners, even state agencies, are understandably reluctant to spend the extra money to ensure deer survival for the benefit of the people of Maine. It just doesn't make economic sense for them.
Despite their inherent faults, LUPC protection zones and cooperative agreements are here to stay. But what we also need is a third approach, one that focuses on wintering habitat management on a landscape level, not just a core area of shelter. And that management should include managing predation in addition to habitat over the long term. The agency most capable of providing this level of commitment is the Department of Inland Fisheries and Wildlife. It is time for DIFW to be empowered to acquire and manage key wintering habitat in the northern half of the state. And to do this, we need a substantial and stable funding source.
Proposed SAM/IFW/Johansen Concept Draft Legislation-Going Forward
Currently, Inland Fisheries and Wildlife owns 100,000 acres of land all over Maine and much of it is designated as Wildlife Management Areas (WMAs), which serve to protect key habitats, like small game or waterfowl habitat. Unfortunately, they don't own many deer yards, especially up north. The Johansen concept draft bill seeks to provide the authority for DIFW to purchase key deer wintering areas to be managed as WMAs.
When purchasing land for state conservation purposes the two programs impacted are: the Land for Maine's Future (LMF) Program and outright fee purchases (cash purchases). In both cases, these are state dollars matched by federal funds like Pitman-Robertson money (taxes collected on the sale of firearms, ammo, and related outdoor gear). We will propose changing the LMF program to prioritize the purchase of deer yards. Here are the actual excerpts from our proposed legislation:
Proposed Title 5, Changes to LMF Statutes
D. When interest in deer wintering areas determined to be important under section 6207(1)(E) is acquired with proceeds from the Land for Maine's Future Fund, fund the development of a management plan to provide for the land's continuing function as a deer wintering area, as long as this plan does not exceed 5% of the appraised value of the acquired property. Development of a management plan under this paragraph may also be made on adjoining deer wintering areas in the same ownership or under the same management.
Note: Proposed statutory language changes referenced in this article may be changed during the legislative lawmaking process and do not reflect the final committee product.
2.  Determination of state significance. In determining whether a proposed acquisition must be funded, in full or in part, by the Land for Maine's Future Fund or the Public Access to Maine Waters Fund, the board shall consider whether the site is of state significance and:
E. Provides wintering habitat for deer in areas determined by the Maine Department of Inland Fisheries and Wildlife to be important for conserving deer in northern, eastern and western Maine.
3A. Deer Wintering Areas. The board shall give preferential consideration during scoring to projects that conserve lands that have been determined by the Maine Department of Inland Fisheries and Wildlife to be important for conserving deer in northern, eastern and western Maine. If acquired with proceeds from the Land for Maine's Future fund, these lands must be owned by the Maine Department of Inland Fisheries and Wildlife and managed as Wildlife Management Areas, with deer conservation as the highest management priority.
Unintended Consequences of Feeding Deer
One of the problems biologists are having with managing deer yards in northern Maine is that people are aggressively feeding deer in the winter. The unintended consequence is that deer are now traveling great distances to reach feeding areas. Many are hit by cars at these feeding sites. In some cases, deer are abandoning traditional deer wintering areas in favor of wintering at feeding areas. It seems many Mainers have given up on the state protecting the deer herd and have decided to save the deer by feeding them on their own.
We believe that feeding deer is not sustainable over the long term. And that it is more prudent to manage deer wintering habitat and predation pressure instead. If the State and the Department commit to buying deer yards, they must have the power to transition deer away from over-browsed feeding sites back to more natural wintering conditions in well-managed habitat.
We propose adding the underlined language below to the existing deer feeding statute. How this section would apply is, biologists would work with communities to move deer feeding operations into or around a newly purchased deer yard to draw deer back into suitable winter cover. This may pull deer away from populated, high traffic areas and enable Department personnel to manage winter habitat and deer predation by coyotes in a more effective manner.
Proposed Title 12 Inland Fisheries and Wildlife Statutes Changes
§10105. Other powers
14.  Regulating the feeding of deer, bear, moose and wild turkey.  The commissioner may by rule:
A. Prohibit or limit the feeding of deer, bear, moose and wild turkey at any location if there is documented evidence of chronic wasting disease, as defined in Title 7, section 1821, subsection 1, in the State or within 50 miles of the border of the State or if the commissioner has reason to believe that the type or location of feed may create a public safety hazard or may have a detrimental effect on deer, bear, moose and wild turkey; and   [PL 2019, c. 355, §2 (AMD).]
B. [PL 2019, c. 355, §3 (RP).]
C. Prohibit or otherwise limit the placement of garbage or other known attractants for deer, bear, moose and wild turkey if the department has reason to believe the placement creates a public safety hazard.   [PL 2013, c. 280, §2 (NEW).]
D. Prohibit or otherwise limit the feeding of deer, bear, moose and turkey at any location as part of a plan to promote the use of deer wintering areas by deer.
Inland Fisheries and Wildlife-Acquiring and Managing Deer Yards
Finally, the Johansen legislation would give DIFW the statutory authority and direction to acquire deer yards that they determine to be "high priority" in Northern, Eastern and Western Maine and furthermore, establish these newly acquired deer yards as Wildlife Management Areas (WMAs). This change establishes the deer yard as the highest value and centerpiece of the site's wildlife management focus. It ensures the site is managed year-round for deer and that it is eligible for Pitman-Robertson federal funding.
If this bill is passed by the legislature, the Department of Inland Fisheries and Wildlife will have all the tools they need in law to acquire (by purchase or easement) and manage deer yards for the purpose of restoring deer.
We Are Not Done-We Need Money to Buy and Manage Deer Yards
We know it will take massive resources to buy and manage deer yards. Over a decade ago, SAM helped create a Maine Deer Management Fund to assist in the management of deer habitat. We are amending that fund to authorize acquisition of priority deer yards. Below is the text of this statute and the underlined changes we propose:
Maine Deer Management Fund
The Maine Deer Management Fund, referred to in this section as "the fund," is established within the Department as a non-lapsing fund to be used by the commissioner to fund or assist in funding predator control and to acquire or enhance deer habitat. The commissioner shall establish on the Department's online licensing system checkoff options that allow a person to donate money for predator control or deer habitat acquisition or enhancement. The checkoff options must be prominently displayed and contain web links to information about how the checkoff revenues have been and will be used. The commissioner shall also print in a prominent place on every paper application for a hunting license checkoff options that allow a person to donate money to the fund for predator control or deer habitat acquisition or enhancement. Revenues from the checkoffs must be deposited in the fund and used for purposes indicated by the checkoffs.   [PL 2011, c. 668, §3 (AMD).]
New Money Needed to Get the Job Done
The Deer Management Fund receives money from a voluntary hunting license check-off and from a portion of deer registration fees. These sources generate about $40,000 per year and the fund currently has several hundred thousand in it. This is a good start, but it's hardly enough money to get the job done. In preliminary discussions with the Department on potential additional funding sources, three have been discussed and nothing is off the table. The Land for Maine's Future (LMF) Fund, which requires a bond to be passed and given the gridlock in Augusta, seems unlikely in the near future. A second source could be a hunting license increase in the $2 to $5 range. This increase would generate about $500,000 per year. A third choice would be to overhaul the Antlerless Deer Permit System and charge a small fee to apply for a permit, as well as for the permit itself. One approach we are exploring would be to allow a two deer limit for permit holders, i.e. one on your big game license and one on the Deer Management Permit.
Go Big or Go Home!
Restoring deer to an area one and a half times larger than the state of New Hampshire is going to require intense investment and long-term management. Looking at deer restoration on a regional scale is the only logical approach. For example, picking a portion of the Moosehead Lake Region and working to restore deer populations using DWA purchases, habitat management and predator control by DIFW would be a good start to demonstrate the effectiveness of this new endeavor. Of course, local buy-in and the support of all who would enjoy a thriving deer population up north are critical. What we are proposing is reversing the decline of a big game species and it will take time.
While at his DIFW position, Gerry Lavigne conducted a projection of the economic value of a deer population restored to 10 per square mile in northern Maine. He estimated that managing deer at a sustainable level would require a statewide harvest of nearly 45,000 deer and would accommodate an additional 50,000 hunters in the northern half of Maine. These hunters, and their spinoff economic opportunities, would bring jobs to a seriously struggling area of the state. DIFW has a thriving deer population in the southern half, now let's get to work on the northern half of Maine!
In the coming months, we will take this plan on the road to seek feedback and determine the appropriate funding sources. One thing is for sure, doing nothing is unacceptable. Sportsmen and women are the real conservationists who fund, preserve and protect our natural resources. It will take a monumental effort, and again, it will be the old-timers who understand, this is a resource worth saving.
David Trahan is executive director of SAM.
For more articles about hunting, fishing and the outdoors, be sure to subscribe to the Northwoods Sporting Journal.
For free access to the digital editions of the Northwoods Sporting Journal, click here.