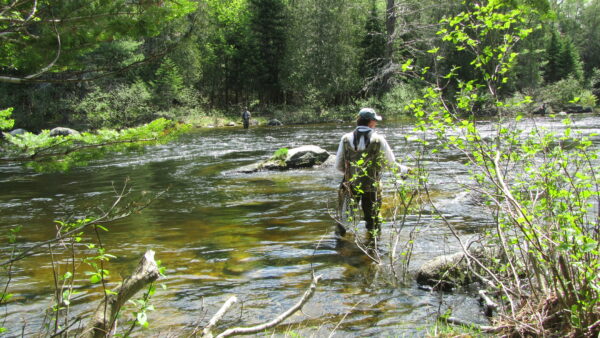 By V. Paul Reynolds
My all time most memorable trout fishing experience in the park was at Center Pond. No lunkers, but incredibly fast action on respectable brookies.
Although the Florida Keys has become my winter retreat until April, my daydreams beneath the swaying palm fronds and soaring pelicans had already begun in February to be occupied by visions of Maine brook trout rising to a delicate dry fly.
If fishing for wild native brook trout in scenic wilderness is your thing, there are more reasons than ever to include Baxter State Park in your fishing plans. The Baxter State Park boundaries encompass 155 lakes and ponds. At last count, there were 41 Maine State Heritage Fish waters within the park. These are specially designated waters that are home to Eastern brook trout that are naturally reproducing and have not been stocked in more than 25 years, if ever. They are legally protected from stocking and the use of live fish as bait. In fact, less than 6 percent of Baxter's trout waters have been stocked.
Native Trout
Within Baxter Park there are also 400 miles of lake- and spring-fed brooks and streams that provide ideal habitat for brook trout. Nesowadnehunk, Wassataquoik, and Webster Streams; and Trout Brook are the best known. Wassataquoik Lake, in the north central end of the park, is one of only 12 bodies of water in Maine that is home to rare native Arctic charr, formerly known as blueback trout (or charr) and Sunapee trout.
The following ponds have proven to me to be well worth the hike and a day of fishing, not in any particular order: Jackson Pond, Celia Pond, Lower Fowler Pond, Big and Little Rocky Pond, Kidney Pond, Daicey Pond, Slaughter Pond, Foss and Knowlton Pond and Center Pond.
My all time most memorable trout fishing experience in the park was at Center Pond. No lunkers, but incredibly fast action on respectable brookies. Be forewarned that it is a five mile slog to get there through bug-infested lowlands, but, if fast action on surface flies is your thing, well worth the physical sacrifice.
Boundary Waters
After Center Pond, my best trout-fishing experiences took place at boundary waters, Jackson Pond and Slaughter Pond. These are so named because the Park's West boundary intersects both waters, leaving the West end of the ponds outside of Park jurisdiction. This makes it possible for an angler to hike in to either of these ponds and camp overnight without violating park regulations. (Make sure your campsite is outside the boundary).
Maine outdoor writer, the late George Smith, an avid trout man, counted Big Rocky Pond and Little Rocky Pond among his favorite trout haunts.Celia Pond is considered a trophy water, and a good bet if you are bent on putting your fly over a large trout. My late friend, Millinocket guide Wiggie Robinson, who grew up hiking and fishing Baxter and knew the Park fishery like no other, once caught a 4 ½-pound brookie on his favorite fly, a Maple Syrup, at Celia Pond. That fish was the second largest square tail caught in Maine in 1992.
Wiggie's Trout
Whether you like a few brookies for the pan or simply enjoy catching and releasing native wild trout whose progeny dates back to the last glacial period, Baxter State Park remains an angler's paradise.
Start making some plans. It is never too early to ponder the dream before you actually live it.
For more articles about hunting, fishing, and the great outdoors, be sure to subscribe to the Northwoods Sporting Journal.
For free access to past digital issues of the Northwoods Sporting Journal, click here.