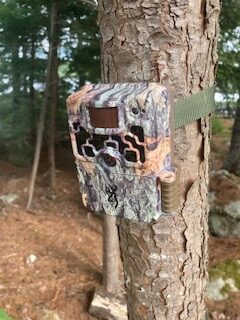 BY V. Paul Reynolds
In the realm of deer hunting, what is the definition of "fair chase" anyway?
Fair chase, as defined by the Boone and Crockett Club, is the ethical, sportsmanlike, and lawful pursuit and taking of any free-ranging wild game animal in a manner that does not give the hunter an improper or unfair advantage over the game animal.
America's foremost hunting ethics guru, the late Jim Posewitz, wrote this definition of the ethical hunter: "A person who knows and respects the animals hunted, follows the law, and behaves in a way that will satisfy what society expects of him or her as a hunter."
Pushing the Envelope
In my view, the unrelenting march of technology is imposing upon us hunters some unprecedented ethical choices that really push the envelope on our personal application of fair chase. More specifically, the wireless or cellular trail camera that allows the real-time monitoring of wildlife during the hunting season is, or will soon be, a mega fair chase issue!
A number of Western states, Arizona, Utah, Nevada, have banned wireless cell cams altogether. Others are imposing restrictions. In the East, New Hampshire has made it unlawful to use cell cams during the open season. In Maine, the only restriction is that you must have landowner permission to put up any trail camera, conventional or cellular, and the cam must be labeled with your name and phone number.
What do you think?
Conventional Trail Cams
I never had compunctions or second thoughts about using my conventional trail cam to pattern deer movements. Most of the bucks I photographed never showed themselves in day light during bow season. Last fall, though, during the September bow season, when I was comparing notes with a young, eager high-tech bow hunter, he showed me his real- time cellular images of his tree stands on his I-phone. I said nothing, but squirmed inside. It was gut-level response for me. It just didn't feel right. This young man eventually arrowed an 8-pointer, which he proudly sent me a photo on his I-phone. The question, of course, is: Would he have killed that deer without the high-tech assistance? Maybe; maybe not. It would matter to some hunters, others not so much.
John Koleszar had some insightful thoughts on all of this, worth sharing with you.
To this day, I simply cannot fathom why anyone would want to cheat or shortcut one of the most fundamental reasons we go afield. At one of its most basic levels, the point of the hunt is that it is difficult, challenging and the outcome in uncertain. Enter our old friends, ego and technology. When ego requires one to get the trophy at all cost, the sanctity of the hunt is forfeited. When one is willing to forego the effort, manipulate the odds or change the circumstance, the end product is a fake. So, where is the line? Each of us has to make our own determination and live with it…
It is telling that Boone & Crockett will not allow an entry of a trophy animal that was taken with the help of a wireless trail cam. B&C minces no words: "If a technology decreases the game animal's opportunity to elude or escape detection (think trail cams with live time, cellular capability), you are over the line."
Public Opinion
Beyond the hunter's own conscience, there is always public opinion that must be included in the fair chase equation. As Posewitz said,"…and behaves in a way that will satisfy what society expects of him or her as a hunter."
High-tech hunting, if we are not careful and circumspect, has the potential to poison our hunting heritage in profound ways.
The author is editor of the Northwoods Sporting Journal. He is also a Maine Guide and host of a weekly radio program "Maine Outdoors" heard Sundays at 7 p.m. on The Voice of Maine News-Talk Network. He has authored three books.Online purchase information is available at Outdoor Books at www.sportingjournal.com.
For more articles about hunting, fishing and the great outdoors, be sure to subscribe  to the Northwoods Sporting Journal.