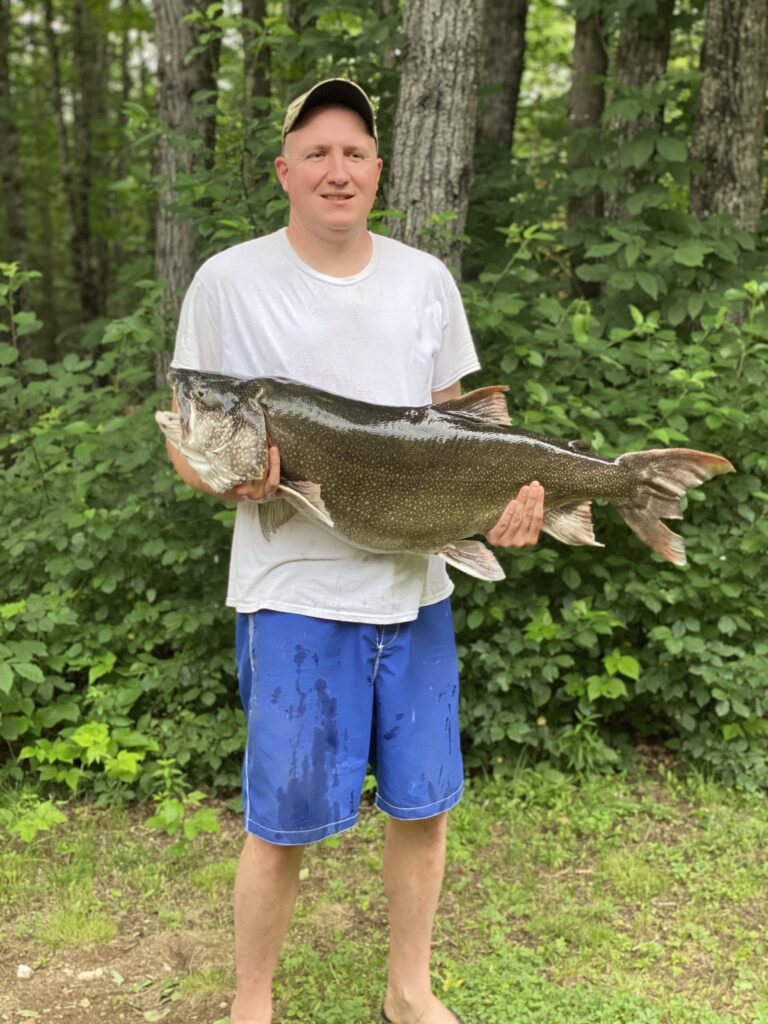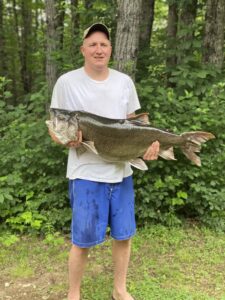 By V. Paul Reynolds
In the lineup of Maine's game-fish inventory, our togue (Lake Trout) is the black sheep of the family among salmonids. In the frying pan, compared with a pan-fried brookie or a poached landlocked salmon, the togue is not memorable table fare. Togue have remarkable longevity, some living up to 20 years. This may explain why the big lunker togue tend to be oily and strong tasting. Conversely, a young togue filleted and grilled can be pretty good, especially when served with an egg sauce and some fresh garden peas or fiddleheads.
Special Breed
The serious, die-hard togue fisherman, and there are still a few of us left, were a special breed. My late father, Harvey Reynolds, was a genuine, credentialed togue man. During the 1950s, when I was a kid, Dad and I slow-trolled for hours over the deephole at Branch Lake in Ellsworth, still a respectable togue lake. In those halcyon days you earned your Togue Man credentials by getting your name and fish on the coveted chalk board at the fabled Hanson's Landing at Branch Lake. The bigger the togue and the more times you got on the board, the bigger your reputation and the taller you walked among your togue-chasing peers.
Dad and I got on the board, but our fish and consequent standing paled alongside the true angling icons at Branch Lake. The two I can recall were Guy Carroll, Sr., and a Polish guy, who was known simply as "The Big O." Frank Smart and Don Maddox were up there as well.
These stalwarts routinely "chalked up" ten pounders plus; Dad and I tended to be proud of lakers in the 3-4 lb range. At Moosehead Lake, where Dad and I also togue fished, very large togue were a common occurrence. During the peak of my togue-fishing days, Sebec Lake and Upper Jo Mary Lake also proved to be hot places for finding big togue.
Longtime Record
For 62 years, a behemoth togue caught at Beech Hill Pond by Hollis Grindle of Ellsworth in 1958 held the state record. His fished weighed 31.8 lbs. Then, on July 2, last year Erik Poland of Andover single- handedly boated a record breaker, a togue that tipped the official scales at 39.2 lbs! Poland was fishing in 94 feet of water at Lower Richardson Lake in Rangeley and was dragging 15 colors of lead-core line when this record fish nailed his DB Smelt lure. Poland fought the fish for more than an hour and eventually was forced to land the played out fish with his bare hands.
Lake Trout or Togue are native Maine fish.  (Salvelinus namaycush). In most waters, lake trout commonly reach lengths of 18 to 24 inches and weights of 2 to 4 pounds.
Lake trout have a typical trout-shaped body covered with creamy white spots on a background of bronze, dark brown, or green. Their coloration can resemble brook trout but lack the colorful red spots with blue halos of a brook trout.  Another distinguishing feature of lake trout is a deeply forked tail as opposed to the square tail of the brook trout.
Lake trout are voracious and adaptable feeders, foraging on a wide variety of aquatic organisms.  In some lakes they are almost exclusively plankton feeders and in others they feed on a variety of prey from crayfish to smelts to white perch. Consequently, these prolific eaters can grow quite large.
What's the best way to fish for these bottom dwellers?
Right after ice out, you may find togue near the shore or even cruising near the surface. But soon they head for the deepest holes in the lake looking for cold water.
From my experience there are two different ways to dredge for deepwater togue: 1) Colored lead core line on a big Sal-Trout reel and a beefy rod 2) Downriggers.
Downriggers
Downriggers were never my thing. Too complicated. Lead core is the way to go, if you ask me. Dad and I always used a little different lashups. Dad attached about 30 feet of monofilament to a swivel between the mono and the lead core. On the terminal end Dad rotated between a sewn smelt and a double-jointed, small floating Rapala. His technique was to let out more lead core than he needed to get close to bottom. His theory was that the lead line would "belly" and drag in the mud, while the mono and Rapala would troll up above the bellied line and avoid bottom hookups. It worked most of the time.
For me, a conventional Togue Man lashup was called for. Following a chain swivel attached to the lead core was attached a big shiny Murray spoon and 6 or 7 feet of high test- monofilament. On the terminal end, a sewn live bait was always my preference.
Unless you want to get snagged up and lose your terminal tackle, there is no time for day dreaming with the Murray spoon lashup. Trolling dead slow, preferably on a windless day or early in the morning, the trick was to carefully monitor the pulses of the throbbing spoon as it spun slowly just above the bottom, where the big ones hang out. For me, the pulsing rod and the sense of anticipation were always mesmerizing. If you could get the bait just off the bottom, and be in the right place in the deep hole at a slow troll, togue strikes were almost a certainty.
Managing the togue fishery in many Maine lakes has been a challenge for fisheries biologists, often with an excess of fish dampening togue growth. This is a boon for togue anglers, who on some lakes may keep as many small togue as they wish.
A final thought. During the dog days of August, when the brookies have disappeared into the spring holes and the bass and salmon would rather sulk than hit your line, consider giving togue a tumble. With the right equipment, including a very slow-trolling outboard, and some patience, you can catch fish, even on the brightest, hottest days.
A smoker will transform about any togue, large or small, into a palatable dining experience. Togue may be the black sheep of the family, but fishing is fishing. They are a plentiful native Maine trout and, like they say, "if the Lord gives you lemons, make lemonade."
_
 The author is editor of the "Northwoods Sporting Journal." He is also a Maine guide and host of a weekly radio program — "Maine Outdoors" — heard Sundays at 7 p.m. on "The Voice of Maine News – Talk Network." He has authored three books; online purchase information is available at www.maineoutdoorpublications.com. or www.sportingjournal.com. Contact email — [email protected]
1) Hollis Grindle of Ellsworth with his Beech Hill Pond togue, a record for 62 years.
2) Erik Poland of Andover with his new state record togue, a 39 pounder, caught July 2, 2020 at Lower Richardson Lake in Rangeley.
3) Taken many years ago, the author and his late father, Harvard Reynolds, with a couple of County salmon.
For more articles about fishing, hunting and the outdoors, be sure to subscribe to the Northwoods Sporting Journal.
,