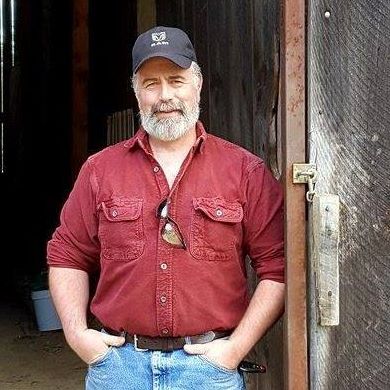 By V. Paul Reynolds
Although Vermonter Scott Hawley made his living crafting fine furniture, making things out of iron -blacksmithing – always held a fascination. Hawley's Dad was a machinist and his grandfather was a blacksmith by vocation.
Around 2008, Hawley was asked by a friend to fashion a hunting knife for him. On the side, the furniture maker had been playing around with some blacksmithing making iron pot holders and other outdoor cooking doodads. His first knife turned out pretty good. He made some more. Not long after that full-time knife making became his new occupation.
Furnace Brook Ironworks was born.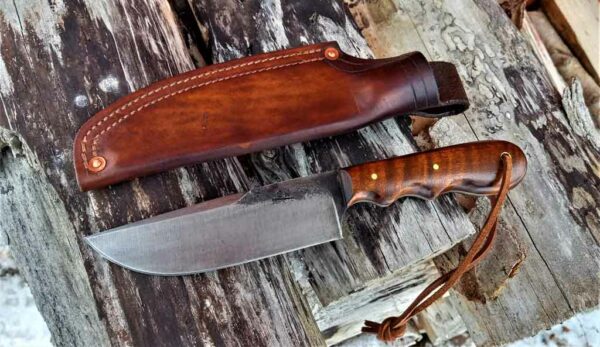 Complete Line of Knives
An avid outdoorsman who works out of his home shop in Chittenden, Vermont, Hawley offers a complete line of handsome, high-quality knives. He individually custom makes the knife, the handles from Vermont wood and the leather sheaths himself, which are made from heavy leather and double stitched.
His line of knives include, but are not limited to: Frontier Log Knife, Caribou Hunter, Bushcraft Woods Knife, St.Lawrence Expedition Knife, Hunter Field Knife, Adirondack Camp Knife, Dark Horseman, Backwoods Knife, Alaskan Skinner Knife, and even a Cleaver Style Knife. Prices of these hand-forged knives start in the low $300.00 range and go up. The Small Hunter is priced at $345.00. His most expensive knife is the Dark Horseman priced at $655.00. He also sells a hand-forged Tomahawk for $1,125.00.
Most Popular Knife
His most popular knife is the Hudson Bay Camp Knife.
Hawley uses a variety of wood for the knife handles, the most striking being the Tiger Maple handles.
When asked if he employed others to assist in the knife making, he made it clear that he is a solo operation by design. " That way" he said, " I can be sure of the quality of each knife." The Vermonter, who likes to think of himself as a bladesmith more than a blacksmith, works 11 hour days filling knife orders.
Collectibles
Hawley obviously is creating collectible knives of a lifetime. He is back ordered two years! He believes that the sheath needs to be "as good as the knife" and that a quality knife must be "hard enough to hold an edge, but soft enough to bend when it hits something hard like bone."
To hone the edges of his knives he encourages his customers to rely on an oil stone and a leather strop. Hawley's email address is [email protected]. You can see his complete lines of hand-forged knives at his website: https//furnace-brook-iron-works.myshopify.com.
For more articles about hunting, fishing and the great outdoors be sure to subscribe to the Northwoods Sporting Journal, the most comprehensive sporting magazine in the Northeast.