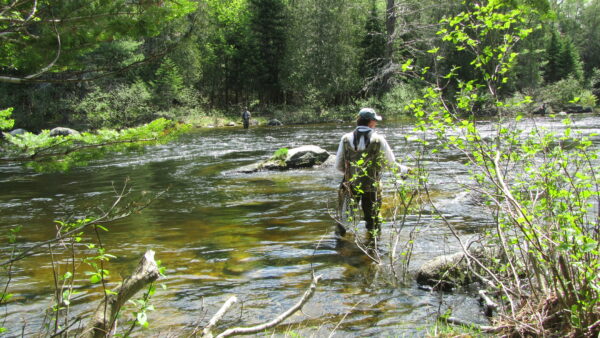 BY Bob Leeman
My dear friend, Bill Bowdoin, a longtime fly fishing buddy from Brewer, now long-since passed away, was a more avid trout caster than I—and that's saying something! It's a long story how we met, but too long for this article. But after we continued to fly fish together for brook trout, we became solid buddies for many memorable years.
Bowdoin was an eager fly fastener, as was I, but his interest in the tying was a few that attract brookies to the strike, and reduced his creations down to less than a half dozen. Those included: Bill's Hopper, Picket Pin, Slim Jim, Black Gnat, and occasionally something else—but not often. Bill was very meticulous in his fly creations , and followed his patterns to a tee.
Take for instance the tiny Slim Jim fly. That fly, from my understanding, is an old Aroostook County trout fly that originated when and where, no one could tell me. Bowoin would just say, "It's just an old County fly pattern, I guess. But it catches fish, and that's what matters."
Trout
"Boy! Did it catch trout. And best, he found out, during early spring. Even as early as mid-to-late April, in central Maine weather, that is. Up north, that's different—and so is the spring season. Like May or early June before the early trout season begins up in that country! A vast difference that central Maine.
Apparently these fly patterns imitated a very small, early-hatching Mayfly species, that hatched around mid-morning, or so, when conditions were favorable. These imitations of dry flies were assembled on #16 dryfly hooks, and cast with delicate rods and flylines.
The Black Gnat fly has been around forever, it seems, creator unknown as far as I recollect. When the fly fishing for brook trout weather warmed, we shifted our casting efforts to Aroostook County from the more central locations. The months of June and even into July were the prime times up there. Some of our concentrations up there were mostly at River DeShute and Prestile Stream. I could write a book on those locations and trips. (Actually, I already have—namely "Fly Fishing Maine Rivers, Brooks, and Streams", by Bob Leeman.)
Aroostook River
Aroostook River was also an evening destination, as well as the Madawaska River, and many other sites. On the road, in the off season, we would tie up some favorite fly patterns, at hotels and motels, as our salesman efforts allowed. We stayed together a lot in the now defunct old "Oak Hotel" in Presque Isle, Maine. It was our headquarters for evening fishing opportunities after a day of work in the area, which included a few trout ponds.
Let me not forget one other favorite fly of Bill's—the "Hopper" patterns. This creation of his was quite simple in construction, but became a great attractor for brookies during the warmer months. I simply named it "Bill's Hopper". All of these fly patterns are pictured with dressings, along with many of "Our" favorite fly-fishing locations in my aforementioned book, published by "Maine Outdoor Publications". See ad in this publication.
(Bob Leeman is a Master Maine Guide, outdoor writer, naturalist, book author, and a co-host of MAINE OUTDOORS radio program on Sunday evenings from 7-8 p.m. His three books, "Fly Fishing Maine Rivers, Brooks, and Streams", Trolling Flies for Trout and Salmon," and "Salesman Angler"—are all available, in soft cover only, at several bookstores and fly shops, or directly from him. For information, see ad in this publication or call 207-217-2550.)
For more articles about hunting, fishing, and the great outdoors, be sure to subscribe to the Northwoods Sporting Journal.
For free access to past digital issues of the Northwoods Sporting Journal, click here.