The Forgotten Fendler Legacy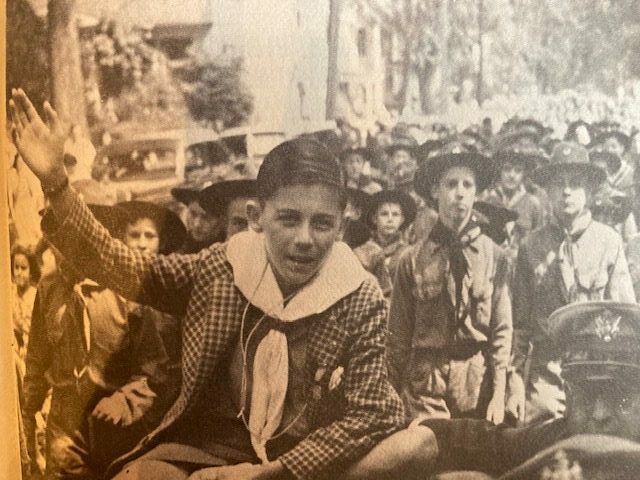 By V. Paul Reynolds
It seems, for whatever reasons, one of Maine's most fascinating and uplifting woods lore adventures has faded with time. In Maine, July 25th is Donn Fendler Day. Governor Paul LePage claimed it so in July of 2014, 75 years after a skinny 12-year old New York boy survived an incredible 9- day ordeal lost in the North Woods. It is a survival story of uncommon human endurance that, in context of this youngster's heartbreaking misery, has all the elements of a true miracle.
Lost
After being separated from his family and walking off the trail on Mt Kathadin in mid-July, Don Fendler wandered aimlessly for miles until he stumbled upon a stream and telephone line that led to an eventual rescue. Except for a few handfuls of wild berries, he survived on sheer faith in God and Boy Scout determination. Think of it. No food. No matches. No knife. No compass. No shoes after the first day. No trousers after the second day. Exposed to every kind of insect bite imaginable. Feet carved to ribbons by rocks.
During his ordeal, Fendler and the search for him was big news for a few days in 1939. But the press and others gave up on him and all but abandoned the coverage and the search. Survival experts shook their heads. A woods wise adult, they reasoned, would have been driven mad by just the insects. Fendler beat the odds. And once rescued, the spotlight was on him and his story for weeks afterward. There were parades, and even a visit with then President Roosevelt.
Special Forces
In adulthood, Fendler went on to become a Special Forces soldier serving in Viet Nam. Throughout his life he never forgot his "Maine roots," and often returned to speak to school students about his Maine adventure. Colonel Fendler died at the age of 90 in October of 2016.
Special Quality
What was Fendler's special quality that brought him through? Survival writer Laurence Gonzales theorizes that all of us deal differently with what he calls "woods shock." Under the pressures that Fendler faced, according to Gonzales, woodscraft and physical toughness matter less than the spirit of an individual, the will to survive.
Joseph Egan, who wrote Fendler's recounted story, credits these three things for Fendler's "survival psychology: 1) Faith 2) Boy Scout instilled confidence, and 3) Deep love for his mother.
And who knows, Fendler may have had some other transcendent help. According to an editorial in a Boston newspaper at that time, "the mothers of America never gave up hope that Fendler would be found," even when the experts said it was hopeless.
What youngster, even today, would not find this story riveting and worthy of lessons to be learned? Long after Don Fendler Day on July 25th, encourage your youngsters to read about this Maine outdoor legacy. Perhaps, as well you should inquire as to whether the book is available in school libraries.
The author is editor of the Northwoods Sporting Journal. He is also a Maine Guide and host of a weekly radio program "Maine Outdoors" heard Sundays at 7 p.m. on The Voice of Maine News-Talk Network. He has authored three books.Online purchase information is available at www.maineoutdoorpublications.com.
For more articles about hunting, fishing and the great outdoors, be sure to subscribe to the Northwoods Sporting Journal.