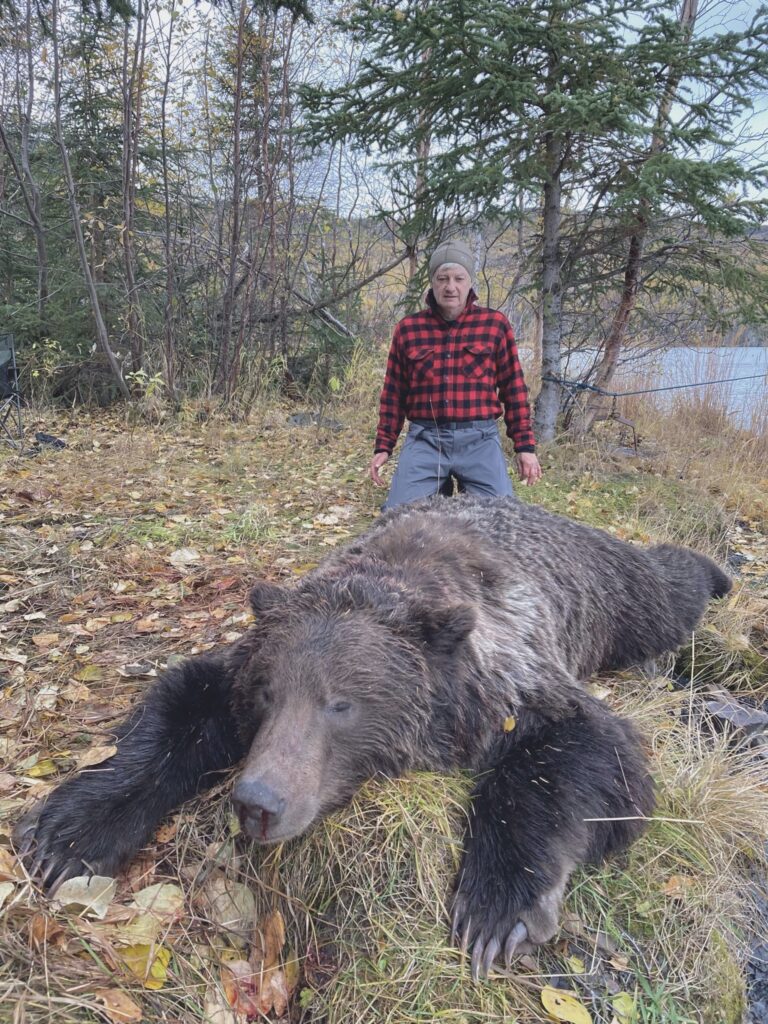 By Dave Willette
"Shoot that bear! Shoot that bear! Be quiet and get on that bear." Those were the exact words of my outfitter/guide Chet Nettles, owner of Alaskan Guided Hunting, and it was the culmination of a long and strange journey.
This Brown Bear hunt was originally scheduled in the Winter of 2020 as a Spring Bear hunt from a boat with another outfitter. Boat hunts for bears are very relaxing, leisurely hunts. They are called a gentleman's hunt. On this hunt I would be housed in a 50' cabin cruiser complete with a shower and hot meals every day. These are basically early evening hunts that usually get started in the late afternoon.
Needless to say, I was really looking forward to it. Then Covid hit and cancelled the hunt. I could've hunted in the Fall of 2020 but Covid cancelled that. The outfitter had the Spring of 2021 booked so it was looking like I couldn't hunt until the Fall of 2021. The Fall hunt is totally different in that you sleep in a tent and then find a high point and glass for bears on the salmon streams-all day-rain or shine. I really wasn't looking forward to dealing with Alaska weather at that time of year. It could make for a long, miserable week.
Lightning
Then lightning struck in the form of a telephone call. I could tell that it was an Alaskan number and I was anticipating a call from my outfitter, but instead it was a woman sobbing on the other end. It was my outfitter's sister. My outfitter had died. They found him on his boat. Now what?
My outfitter had all of my money-the hunt was paid in full. His sister promised me that she would try to get my money back to me but I wasn't optimistic, but lo and behold three weeks later don't I get a full refund.
I told my tale of woe to Glenn Dunning, owner of Tundratour Consultants and he said that he may have an outfitter who could help me out. One thing led to another and I booked my Fall hunt with Chet Nettles, who hunts out on the Kenai Peninsula for the second week of October. I landed in Anchorage on October 6th and took a jumper flight the next day, landing in Kenai around midday. We got our stuff together and shoved off the boat launch at Skilak Lake at 4:30, getting to the campsite at 6 p.m. We set up camp and then climbed a bluff that looks down on salmon stream that feeds the lake, roughly 275 yards away, getting into place just after 7 p.m. We weren't there 15 minutes when a large boar Brown Bear came strolling out of the alders and Chet emphatically whispered, "Shoot that bear." The bear was 375 yards away, but walking directly away, upstream and back into the alders, never giving me a clear shot. Ten minutes later the bear comes back out of the alders and it's walking straight towards us, stopping at the shoreline, 266 yards away. Chet said, "Take him when you're ready and just keep shooting until I tell you to stop." My first shot hit it hard and the bear started running towards the closest tree-line but there was a large 2'deep inlet in its way and this slowed it down. I hit it three more times and the big bruin died in the water.
Finding My Bear
It was almost dark when we got to it as it was tough to find it with only about a half inch of its hair rising above the water. When I reached in to grab the bear I noticed that he almost floated. So we tied a rope to its front paw and towed him to our campsite about 300 yards away. After getting it up on shore somewhat, we had a leisurely supper and went to bed, (I had a big grin on my face all night long), where it poured until dawn. We got up the next day, ate breakfast, took pictures and skinned the 9.2' bear.
We got back to the boat launch before noon, finished up the tagging process and I caught a jumper flight to Anchorage by mid-afternoon. I flew out of Anchorage later that night and I was home for a late supper the next day.
 And I still have a big grin on my face.
  David Willette is the author of the book, "Coyote Wars". He can be contacted at [email protected]
For more articles about hunting, fishing and the Great outdoors be sure to subscribe to the Northwoods Sporting Journal.