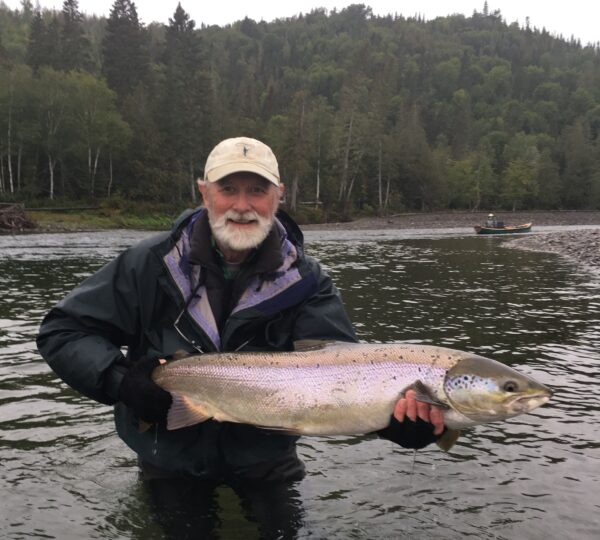 By V. Paul Reynolds
Fly fishermen are no dummies. At a fly shop, a bright, buggy-looking fly may wind up in the angler's shopping cart, but it had better perform out there on the water. Sometimes it does; sometimes it doesn't. Yes sir, the proof is in the pudding.
These days Maine fly fishermen flock to one particular artificial fly: the Golden Retriever. In the East, and especially in Maine, it has become almost as fabled as the vaunted Grey Ghost streamer fly designed by the late Carrie Stevens of Upper Dam.
To muddle a metaphor, the Golden Retriever is purportedly the "silver bullet" in a fly fisherman's repertoire. It is versatile. Fish it for bass, salmon, trout, you name it. Fish it in any weather conditions. Fly fishing writer Mike O'Brien sings its praises. "You can't fish it wrong! The fly has no deficiencies: it can be fished on the swing; by stripping; or a natural, dead-drift. All are productive ploys. I also have found success using it as a trailer fly in a two-fly streamer rig."
So who created this wonder fly, anyway?
Jim Finn
Jim Finn. The man is 82- years-old and has been at the fly-tying bench since his mid twenties. As a boy growing up in rural New Jersey, he fished every chance he got near his home and in the Catskills. When he wasn't fishing or tying, Finn worked as a tool and die maker and wound up in industrial sales. Somewhere along the way he got a bellyful of the workaday rat race and pulled the plug. He was in his mid 50s. What followed was his own fly shop and business, Mossy Creek Fly Shop, and all the fishing and tying he could squeeze in.
His jewel, the Golden Retriever, came off the tying vise in final form about 25 years ago. The birthing was an evolving process that included some help from his friends and a lot of trial and error. There is no patent on the fly. In fact, the fly and its recipe is available on Finn's website: GoldenRetrieverFly.com.
"Is there a difference, Jim," I asked, "between your Golden Retriever and others on the market?"
"Well, yes, there is," he said. "My version is bullet proof. It won't come apart after a couple of salmon hookups." He goes on with some pride in his voice,"When I tie in the Estaz nylon fibers, they are stretched hard and secured with a very heavy thread. Each fly I tie is assembled as though I were going to fish it myself."
The Business
Finn operates a solo tying business out of his home in Reading, PA. He ties every day for two or three hours. You can purchase the Golden Retrievers directly from him at GoldenRetrieverFly.com. You can buy three for $9.00.
Finn today is unabashedly "addicted" to Atlantic salmon angling. He has chased the silver warriors all over the world, from Ireland to Iceland and the Gaspe. He has also guided and hosted many fly fishing adventures over his lifetime. " I don't guide much anymore," he quips." I am too much of an old crank." He loved fishing Cuba, its people and its fishing hotspots. A native Cuban told him that the Revolution with Castro brought three good things and three bad things. The good things were free education, health care, and baseball. The bad things were breakfast, lunch and supper."
A dealer for fly rods made by Thomas & Thomas, as well as Temple Fork Outfitters, he says today they (all fly rods) are all pretty good. "It's a fine line." His taste in trout flies is hardly exotic, Finn leans to Hornbergs, Parachute Adams, and a green drake variant that he designed himself.
Euro Nymphing
He has also become fascinated recently with what is called Euro Nymphing or contact nymphing, which is nymph fishing using a delicate but strong system integrating an 11 foot, 3 weight fly rod equipped with monofilament line. "This is a wonderfully sensitive rod with a strong butt that allows you to not only feel the road loading, but read the bottom of the river with precision as your fly bounces along." He says that he can throw this setup upwards of 50 feet.
Finn likes using a dropper and, interestingly, he uses the Golden Retriever as his dropper with a smaller nymph at the point of his leader."It works well," he says.
Finn fishes Maine a lot, too. He gravitates to Grand Lake Stream and the East Outlet at Moosehead Lake and some other unnamed waters.
The author is editor of the "Northwoods Sporting Journal." He is also a Maine guide and host of a weekly radio program — "Maine Outdoors" — heard Sundays at 7 p.m. on "The Voice of Maine News – Talk Network." He has authored three books; online purchase information is available at www.maineoutdoorpublications.com. or www.sportingjournal.com. Contact email — [email protected]
For articles about hunting, fishing and the great outdoors, be sure to subscribe to the Northwoods Sporting Journal.