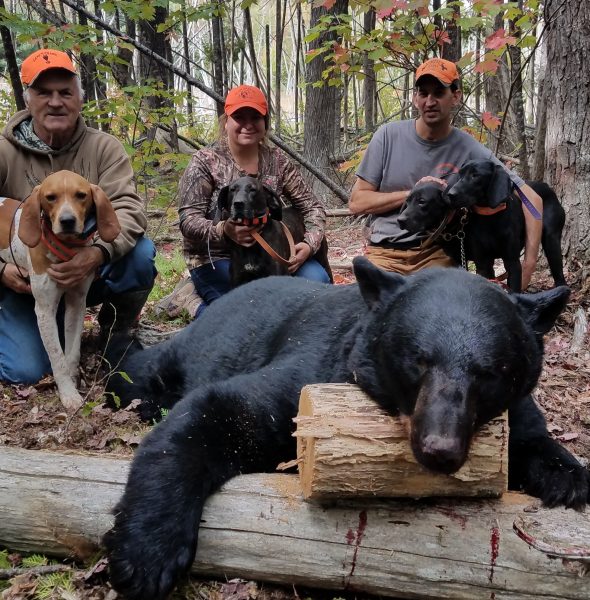 By Tom Kelly
I ask my bear hunting clients to come to camp with a rifle of at least .30 caliber. If you have ever read this column before, you have heard this many times, so I will not repeat my reasons why. Rather than my opinions, lets look at results and the types of firearms my hunters came to camp with. I am happy to report that every bear taken was harvested with a pass thru shot. The tracking jobs were from dead at the barrel to a very interesting 35 yard recovery.
As a guide, that makes me very happy. I have mentioned before that I do an autopsy or more accurately, a necropsy on every bear. The results as always were very informative. The goal is always a double lung wound that generates a good blood trail. The angle of some of these hits however, did not yield this result. In one case, an extreme quartering away angle resulted in a single lung and a dead center heart shot before exiting in front of the off-side leg. In another instance, a pass thru a bit father back in the lungs caused the bear to spin in circles.
Second Shot
This reaction is very common. The hunter took a second shot at the spinning bear breaking the spine and dropping the animal right at the bait barrel. The first shot would have been fatal shortly, but the second shot anchored the bear decisively. The result of the successful pass thru shots were that I was unable to recover any bullets to assess their performance. The dead bears and short tracking jobs certainly attest to their effectiveness, however.
Here is the line up:
.30/06 There were 3
.308 There were 2
.45/70 There were 3
20 gauge shotgun There was 1
16 gauge Drilling There was 1
.300 Savage There was 1
.32 Win. Spcl There was 1
These came in a variety of packages. There were 3 lever actions. Two were .45/70 in Marlin Guide Guns. One was a .32 Win Special in a great looking and shooting 16" Carbine with a big loop lever.
There were 3 Remington 7400. Two of them were .30/06 and one was a .308.
There were 2 single shot Thompson Center platforms. One was a .30/06, the other was a 20 gauge shotgun.
There was a Remington pump action Mod 7600 in .30/06.
There was also a Kreighoff Drilling with 2 side-by-side 16 gauge shotgun barrels with a 7x65R rifle barrel underneath. I wrote about this gun in last month's column.
There was also a .300 Savage in a Mod 99 lever gun, my favorite rifle of the bunch.
One of the hunters had a very nice AR-10 in .308.
Good News
So, as I have previously mentioned, all of this is the good news. The bad news is there were 4 hunters who missed their shots. We should explore the suspected reason for some of these misses. In my humble opinion, I believe that most hunters do not shoot enough. Regular practice before the hunt can accomplish multiple goals. It is important that you are totally comfortable with your chosen firearm. Equally important is being confident that you can consistently hit what and where you are aiming.
It is also equally important to practice the way you will be hunting. If your stand is 15 feet high, then you should practice those angles. If you are hunting from a ground blind, you should practice from a chair, etc. This does not only sharpen your skills but gives you confidence. Confidence in your abilities and equipment is the best cure for bear or buck fever. I know I have said it before, but it bears repeating. So, practice, practice, practice and take a youngster or new hunter with you. If you get the chance, come and see us at the lake.
Tom is a Registered Maine Guide. He is the owner/operator of Shamrock Outfitters in Orient Maine with his wife Ellie. He is a retired police officer as well as a retired manager from two major firearms manufacturers. He is an NRA Certified Instructor as well as a Hunter Safety Instructor in Maine, New Hampshire and Massachusetts. You can reach Tom at Shamrock Outfitters (207) 694-2473. Please visit our Facebook Page: Shamrock Outfitters and Properties and come visit us on East Grand Lake.
For more hunting stories, be sure to subscribe to our monthly hunting magazine the Northwoods Sporting Journal.
To access past copies of the Northwoods Sporting Journal in digital format at no charge, click here.