Building Turkey Calls and Owl Hooters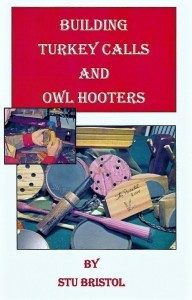 Stu Bristol is a widely recognized pioneer in New England wild turkey hunting and restoration. He was inducted into the New England Wild Turkey Hunting Hall of Fame in 2019. This book features step-by-step, easy to understand call-building from basics instruction to custom building. Learn how to tune and operate the various calls. Work with wood, slate, glass, ceramic and other materials to build your own customized turkey calls and owl hooters.
To purchase this book send a check payable to Stu Bristol for $15.00, plus $5.00 for postage to: Orion Enterprises, 17 Grasshopper Lane, Lyman, ME 04002.