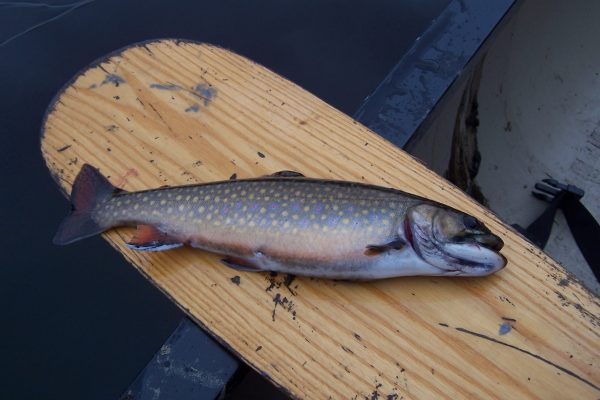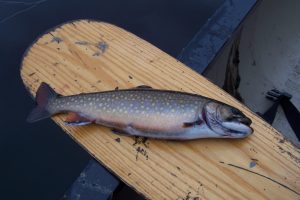 The coming of October heralds some of the finest trout and landlocked salmon fishing available, not necessarily in terms of numbers of fish caught, but certainly in quality of the fish and quality of the experience. For the most part, rivers and streams in Maine are restricted to fly fishing and lakes and ponds have an artificial lures only regulation in October. Also, all fish caught must be released alive at once, but as always, please be sure to check the appropriate regulations for the area to be fished.
Trout and salmon can be difficult to catch at this time of year, their major priority being to spawn, but with a little persistence and the right fly, you can have some great action. In October, these fish are generally in prime fighting condition being well proportioned and in bright spawning colors. They can be attracted to the whole gamut of flies; large streamers including Joe's Smelt, Mickey Finn, Gray Ghost, white marabou Muddler, red and white, etc, and dry flies such as Elk hair caddis and Grasshoppers. I have had the best success, however, with caddis larvae and nymph patterns fished with a strike indicator, but if action was lacking, I would change to larger patterns such as Hornbergs and Muddler Minnows fished both wet and dry, as well as streamers.
Admittedly, I have never caught a lot of fish in October, and if I averaged several hits per day with one or two hookups, I've "done good." However, I have seen anglers do very well and the major reason for their success is the use of small nymph and caddis larva patterns in sizes 16 to 20 that closely imitate the naturals. My own use of such small flies has been limited since I've never had much confidence in being able to hook and land fish on those sizes. That all changed for me several years ago when my wife and I took a trip out west to visit and fish in Yellowstone National Park and southwestern Montana. As it turned out, we were too late for the salmon fly and pale morning dun hatches, although we did get some brook and rainbow trout on elk hair caddis, grasshoppers and caddis larvae.
It wasn't until our float trip on the Madison River below Quake Lake that I could fully appreciate the need for small flies. The guide rigged up our floating lines with #20 pheasant tail nymphs as tail flies and #12 girdle bugs as droppers with a split shot about a foot above these. Just to be slightly different, my wife's tail fly was beaded and mine wasn't. About six feet above the split shot, our guide attached two small fluorescent strike indicators three inches apart. He stressed the importance of presenting the flies so that fish would see them before they see the fly line, his opinion being that two strike indicators can better pinpoint the direction and location of the flies. Needless to say, we had to frequently mend our lines to make a proper presentation. We hooked browns, rainbows and mountain whitefish up to 18 inches throughout the eight-mile trip, all on the small tail flies. The truth compels me to admit, however, that we netted only a total of eight fish between the two of us and lost probably 25+ in addition to many other hits. I don't feel too badly about this because our guide disclosed that on the average, less than 50% of the fish hooked on these small flies are actually landed. All of our action was on either size 20 pheasant tails or green and brown caddis larvae. The bottom line for my wife and I was that we found out first hand that fish could be hooked and brought to net on small patterns.
When tying flies size 18 or smaller, it is difficult to weight them because the small bodies will look out of proportion. One solution, which is very effective, is to add a 3/32-inch bead just behind the eye prior to tying the fly. Another would be to use an unweighted fly and add split shot about a foot above it. Based on our experience on the Madison, there was no appreciable difference in numbers of fish hooked between the two methods. Both options are legal in the fly fishing only waters of Maine.
__________
Joe has enjoyed fly fishing for over 65 years. His first book, Fundamentals of Fly Fishing, is now available. He can be reached at: [email protected]
For more articles and stories about hunting, fishing and the outdoors, be sure to subscribe to our monthly publication the Northwoods Sporting Journal.
To access past copies of the Northwoods Sporting Journal in digital format at no charge, click here.