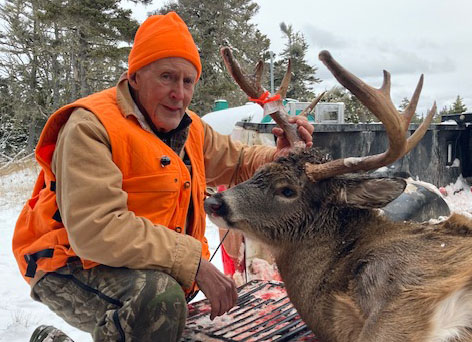 By V. Paul Reynolds
Anticosti.
Just drop this single word before any dedicated deer hunter and you immediately spark visions of a deer hunter's paradise, a mythical place of dreams, where whitetails abound in a wild setting of dense black spruce thickets, daily snow squalls, winding rivers and low-lying open bogs.
The ads and the websites for the Anticosti Island deer hunts tell you all of this. It is not mere promotional hype. For any deer hunter, novice or veteran, Anticosti Island is truly a deer hunter's paradise. I know. I hunted there for a week in early December. The five-day hunt for me was the adventure of a lifetime, and I have had a few hunting adventures over the years.
Anticosti
The island, located in the middle of the St. Lawrence seaway in Quebec, is about 140 miles long and 35 miles wide. There is a rich history attached to this special place. The island was purchased in 1896 by French chocolate maker Henri Menier, who introduced a number of wild critters to the island, including 200 whitetail deer. The deer flourished. Many other introductory critters did not survive. Depending on winter severity, the island's deer numbers fluctuate between 120,000 and 160,000. Today, there are an estimated 120,000 deer or 40 animals per square mile.
In late fall, as the snow depths build, the deer begin a "winter migration" toward the coast, which provides an endless supply of winter forage from the kelp piles along the miles of beaches. On the first morning of my buck hunt, 36 does and yearlings crossed a road not far from where I was posted. Before the day ended, I glassed a number of small bucks in my scope's cross hairs, but took no shots.
A Double
Before the hunt was over my hunt mates all tagged out with two nice bucks apiece. The second day an 8-pointer fell to my 7mm-08. Midweek I missed a splendid, wide-racked buck at daybreak standing in a bog at more than 200 yards. The last day I forewent my second buck and, by choice, bagged a fat doe.
Mark Cote, a spokesman for Sepaq Anticosti and my host for the hunt, introduced me to Robin LaPlante the night we were weathered in at the Port Menier airport. LaPlante is the CEO of Sepaq, which recently acquired the other big hunting outfitter on the island, Safari. LaPlante is a thoughtful, gracious guy, who started as a hunting guide and worked his way up. His enthusiasm is infectious. He shared with me some of the island hunting data, which includes an annual summary of the sex and location of every deer taken during the fall hunts. Clearly, the island constitutes an unprecedented and, perhaps, unresolved biological experiment. LaPlante concedes this.
Over browsing by high deer numbers over the years has had an impact on the island ecology, not all good. Bears are now extinct for lack of wild berries and other forage. Balsam fir, once plentiful on the island,, has been replaced by a forest monoculture of black spruce all attributable to over browsing by whitetails. The Anticosti deer have no natural predators, except for man. Even domestic dogs are not allowed on the island.
Beyond the Vision
For me this hunt measured up and, in most cases, exceeded my vision of a serious deer hunter's dream hunt: deer density like no other, a wild scenic setting with utter solitude, seasoned professional guides who help when needed, but never hinder, and comfortable accommodations in coastal camps.
This is a deer hunt of 150 years ago, a true wild deer hunting experience. From a deer management standpoint, I suspect that the Anticosti experiment remains an open, unfinished narrative. Meantime, it will continue to attract hunters, who will almost always bring home wild meat and priceless memories.
For more information, check out the website at www.sepaq.com
.
The author is editor of the "Northwoods Sporting Journal." He is also a Maine guide and host of a weekly radio program — "Maine Outdoors" — heard Sundays at 7 p.m. on "The Voice of Maine News – Talk Network." He has authored three books; online purchase information is available at www.maineoutdoorpublications.com. or www.sportingjournal.com. Contact email — [email protected]
For more articles about hunting and fishing and the great outdoors, be sure to subscribe to the Northwoods Sporting JournaL.