Some Reflections On Being A Maine Guide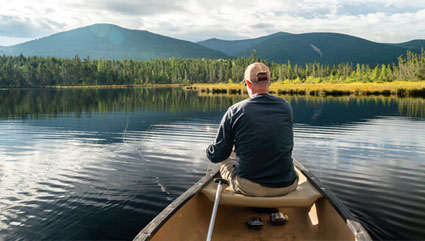 As a boy and a young man, I was interested in the Maine woods and waters and I was intrigued by the term "Maine Guide." To me, the term almost had a connotation as exciting as the "Royal Canadian Mounted Police."
My first real contact with a "real" Maine Guide was in June of 1941 when my Dad took me up to the Birches on Moosehead Lake. The lodge was then owned and operated by Oz Fahey. The mention of Moosehead Lake was enough to get a nineteen year old University of Maine sophomore up on a cloud.
We went up there for three days and had a great time. We were assigned a Maine Guide who turned out to be a Native American, of normal height and weight, and nothing extremely different that would proclaim him a Maine Guide.
I'll call him Joe. Joe had a twenty -foot Templeton canoe, paddles and camp wangan, and we went fishing across to North Bay and then up to Little and Big Duck Coves. We caught several salmon and togue, all on live bait used with a Rangeley Spinner. Joe didn't talk much, but when he did he always had something to say. He pointed out the indentations of small sea like shells in the pieces of rocks on the beach, showing the evidence of life hundreds of years earlier.
Lunch time was a real experience. We gathered wood and birch bark to get ready for our fire. Joe, it turned out, had spent the winter at Togus Veterans Hospital and had given up smoking and no longer carried matches. Fortunately, Dad had some. Soon we had a great cooking fire going with soup, potatoes, and steak cooking, plus biscuits in a reflector oven and even a blueberry pie. Surprisingly, everything was ready at the same time!
On our way back across North Bay, the wind came up and we took on some water. Joe told Dad and me to get down on the bottom of the canoe. Then he did a great job of slowly and carefully working toward camp. We were some worried. We had no life preservers and Dad couldn't swim at all. Shortly, we saw Fahey's motor boat coming near us. Oz told us he was coming along the side of the canoe to pick us up. Joe stood up in the canoe in an angry tone said, "I bring party out. I bring party back!"
The motorboat departed and we arrived back to camp later, wet and somewhat uncomfortable, but with great respect for our Maine Guide, Joe.
Right then, in1941, I decided that I wanted to be a Maine Guide, but it had to wait for more than three years of dental school, two years of service in the U.S.Navy, and another year of orthodontic studies at Northwestern University.
In 1947, I moved back to Bangor and set up a dental practice. In the early fifties, I was doing a lot of hunting and fishing in my spare time. I began to think again of getting a Maine Guide license. I contacted Fred Reeves the local game warden in the Bangor area. He set up a time when he and another warden could have me take them on a short canoe trip, cook lunch, and answer many questions about safety, outdoor ethics, game identification, and so forth. I passed the test and was some happy to fill out my approved application. I had arrived! I was a Maine Guide! That was 1953 and I still have my Master Guide license.
In 1979 I received my twenty-five year card. I also have a license to operate motorboats for all inland waters of Maine as a guide.
My guiding has been a fun thing, as I didn't have time to schedule paying clients. I already had a full-time dental practice to tend to. I did pride myself on guiding friends for mostly spring lake fishing and bird hunting with my breed of setter dogs helping out along the way.
As I mentioned, my early memories of a Maine Guide centered around campfire cooking and I still find it a lot of fun, especially for friends and guests. I enjoy both cooking in camp and over an outdoor fire. One of my favorite recipes is included in this article and can be used for either type of fire.
Some essential tools for an outdoor cook are: a nested cooking kit with pots, pans, dishes, cups and silverware. Also I have a big firkin or old butter tub that I filled with extra utensils and essentials such as pepper, salt, spices, can-opener, matches, dish soap, dish wipers, dish rag (chore boys), etc. A reflector oven is useful and, with a little practice, a guide can do a good job cooking. One important thing to remember is that a small fire is better than a big fire.
I sure hope that you enjoy the Maine woodlands and waterways as I have.
For more articles and stories about hunting, fishing and the outdoors, be sure to subscribe to our monthly publication the Northwoods Sporting Journal.
To access past copies of the Northwoods Sporting Journal in digital format at no charge, click here.