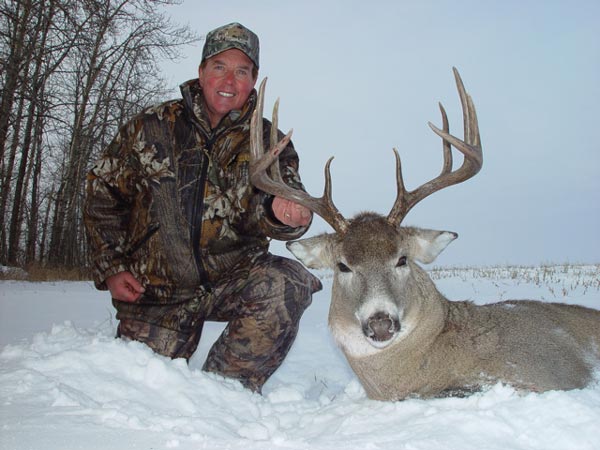 By Bruce and Paula Jensen
First, you need to blend in with the environment. That means taking pix from a blind or sitting on the ground in tall grass. An archer's blind works well because we can't see you hiding in it. And, when you're sitting in the grass, you're no threat at all. We're bigger and faster than you are. Wimpy photographers, who want to sit on the ground but don't want to get their bottoms wet, can make a waterproof "sit-upon". Here's a link to a tutorial that shows you how to make one: http://artsychaos.blogspot.com/2011/04/sit-upon-tutorial-by-rachel-beyer.html.
Clothing
Wear waterproof camouflage clothing, from head to toe. That way the whitetails will think you're a big tree stump! You'll also need to be on site early. But be advised. The whitetails might make you wait for hours before they ever show up. So, be patient! Now, I'm going to turn you over to the Jensen's for some advice on what camera gear and techniques work best for photographing whitetails. OK, Bruce and Paula, you're up."
Camera Gear
To photograph whitetails, it's best to use a variable focal length super zoom lens rather than a fixed focal length lens. With a fixed focal length lens, you have to physically move closer/further away from your subject in order to change the lens focal length. That's a recipe for disaster. The minute a whitetail sees you moving, it's going to run away…along with all your photo ops! That's why a zoom lens works best for photographing skittish wildlife. You can stay in place and simply turn the lens ring to change focal lengths. Plus, you get maximum flexibility with image composition. Shoot sunrise images of distant whitetails standing on the horizon or zoom in for close-ups of a regal six-point buck.
You'll also need a sturdy tripod. The legs should be adjustable so they extend high enough to reach a blind window and go low enough, so you can take ground level pix. Since it could take a while for the whitetails to show up, use a gimbal head to support the heavy weight of your camera system. Also pack a rain cover to protect your camera and lens. That way you won't have to leave if it's starts to rain or snow. Snowflakes and sprinkles don't bother the whitetails so you don't want to miss, what could be, your best photo ops of the season.
Planning and Technique
While you're waiting, scout the area and watch the sun's movement. Think about what types of whitetail behavior you'd like to photograph: bucks locking antlers, does hopping fences, offspring playing tag and facial expressions. Also consider what landscape elements you might want to include: golden aspens, mountains, ponds, flowers, fences and rock formations. Having a plan helps you determine, in advance, where you'll need to be, in order to get your best shots.
Shoot pix from a low angle to get spectacular whitetail portraits. If you own a DSLR camera, you may want to try a shooting technique called "back-button focusing"(BBF). BBF delivers razor sharp images. There is, however, a learning curve since you have to change the way you take pictures. Most people are accustomed to using the shutter button to auto focus and take pix. BBF is different. With BBF, you customize your camera so a different button is used to auto focus your shots (usually the * button or "AF-ON" button) and the shutter button is programmed to only take the picture. There are articles on the Web that explain how to set up BBF on your DSLR, based on your camera model and the auto focus/drive modes you most often use. After you've set up BBF, tape a note to your camera as a BBF reminder that you can't use the shutter button to focus anymore. Don't remove it until the technique becomes second nature to you.
If you'd like to know more about BFF, read Rudy Winston's article called "Back-Button Auto Focus Explained" at the Canon USA Learning Website. Then, read additional BBF articles that explain the different button/function configurations. Does BBF work? You bet it does! You'll immediately notice that your images are sharper and that your camera focuses faster.
For more articles and stories about hunting, fishing and the outdoors, be sure to subscribe to our monthly publication the Northwoods Sporting Journal.
To access past copies of the Northwoods Sporting Journal in digital format at no charge, click here.
---
Bruce and Paula Jensen live near Nye, Montana where they own and operate Montana Fly Fisherman, a small business providing high-quality book and photographic products to outdoor enthusiasts. For more product information visit http://montanaflyfisherman.com or to view and order prints of Paula's fine art photography visit www.bigskywild.com.