On the Wrong Side of the River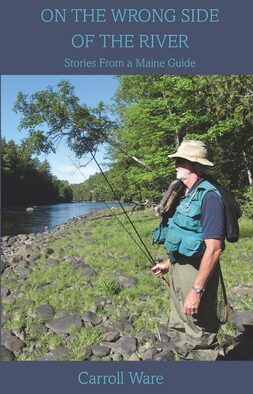 Carroll Ware, Master Maine Guide, Legendary Maine Guide and co-owner of Fins and Furs Adventures, is like so many guides a storyteller as well as a seasoned angler, hunter, and outdoorsman. This is his first book and in it he relives some of the unforgettable characters and memorable adventures that were an integral part of his professional life.
Ware is also a former columnist for the Northwoods Sporting Journal. His longtime editor, V. Paul Reynolds, said of Ware's book: "This is a bighearted book that really connected for me. If you are an outdoor person, if you have ever deer hunted a cedar bog, chased trout in a deadwater, played cards at deer camp, or simply made a few trips to the outhouse, you will identify – not only with the times on the waters and in the woods, but with the colorful companions that are part of just about every hunter and angler 's outdoor heritage."
As one of his outdoor chums said, "Carroll has a zest for life and a quick wit." It all comes through with flying colors in On the Wrong Side of the River.
The book may be purchased for $15.00 plus $2.00 for postage from the author at 207 474 5430 or from North Country Press at Northcountrypress.com.
For more articles about hunting, fishing and the great outdoors, be sure to subscribe to the Northwoods Sporting Journal.