Maine Fall Fishing Hot Spots Statewide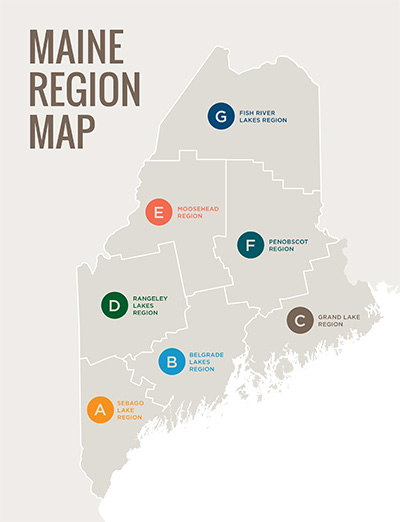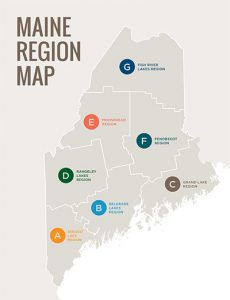 Region A- SEBAGO
Outlook on the fall season: September is one of the best fishing months for rainbow trout in Maine.  The fish are still in the best part of their growing season and water temperatures in the top layers of the lakes are cooling which allow trout more access to a variety of prey in the water column.  An added bonus to cooling top water temperatures is that those anglers inclined to release their catch can feel better about a trout's chances of survival as they make their way to cooler and deeper waters to recuperate.
Places to go: Some of the best waters to catch rainbow trout in southern Maine include Little Ossipee Lake in Waterboro, Middle and Upper Range Ponds in Poland, and Norway Lake in Norway.
Fishing tip: Good terminal gear choices include slip rigged live shiners, copper and orange spoons, or your choice of wooly bugger. Keep the trolling speed below 1.2 MPH for the live bait but travel a bit faster with the flies and hardware.  The use of sinking fly line or a couple colors of lead core is recommended even in late summer/early fall conditions.
Reminders: From August 16 to Sep 30, the general law for fishing in rivers, streams, and brooks is restricted to the use of artificial lures and flies only. General law length and bag limits apply, except there is a daily bag limit of one landlocked salmon and one brook trout.
Region B- BELGRADES
From Fisheries Resource Supervisor Jason Seiders
Places to go: Kennebec River (Madison) – This section of the Kennebec supports a really nice brown trout fishery with good numbers of quality-sized fish. This section of the Kennebec has great access along both sides of the river. The upper portion of this section, made up of deep pools and ledge, can be accessed via Arnold Lane in Madison. The lower portion, made up of deep runs with cobble and boulders, can be accessed via the parking area and trail adjacent to the cemetery along Father Rasle Road.
Belgrade Lakes (Great Pond, Long Pond, Messalonskee Lake) – Bass fishing in these lakes will be heating up as the temperatures cool off a bit. Smallmouth bass that have been seeking deeper, cooler water will begin moving into near-shore areas to feed. Jigs, crankbaits, and swimbaits will all work well, and fish numbers and size are tough to beat! In addition to great smallmouth fishing, the white perch fishing on Great and Long Ponds remains outstanding. We continually receive angler reports of good numbers of fish, with many fish approaching and exceeding two pounds!
Lake St. George (Liberty) – As the water begins to cool, the salmon and brook trout fishing will pick up on Lake St. George. This is one of the region's best salmon waters, with great numbers of fish and good size quality. The brook trout fishing has been outstanding in recent years, providing an added bonus to your fishing trip.
Outlook on the fall season: Fall is a busy season for Maine's biologists and hatchery personnel. In central and midcoast Maine, this is the season when the majority of our fish are stocked. Keep an eye on our website for updates to local stocking efforts. Many popular waters such as the St. George River, the Kennebec, and the Medomak River all receive good numbers of fish this time of year. Knowing whether your water has been stocked could mean the difference between a good trip and an awesome trip!
Reminders: This is a great time of year to get out on the water. The combination of good fishing, the absence of mosquitoes and black flies, and the colorful foliage can all make for a memorable trip. Once again, if you have any questions about planning your next fishing trip, please feel free to call one of our fisheries biologists. Good luck!
From August 16 to Sep 30, the general law for fishing in rivers, streams, and brooks is restricted to the use of artificial lures and flies only. General law length and bag limits apply, except there is a daily bag limit of one landlocked salmon and one brook trout.
Region C- GRAND LAKES
From Fisheries Resource Supervisor Gregory Burr
Places to go and fishing tips: September is a terrific month to start fishing for brook trout and landlocked salmon again.  In the beginning of the month anglers will still need to go deep. For trout in the small ponds, anglers will find fish in the middle layer, also called the thermocline, which is usually located between 13 and 18 feet down.  In the larger lakes, anglers trolling for salmon will need to go down between 25 and 35 feet.  But in the later part of the month the days and nights will get cooler and so will the surface waters of area lakes and ponds. This means that trout and salmon will start prowling along the shorelines as well as the top layers of the water column. I find when the water temperatures reach down into the lower 60's you can shallow troll or cast with bright colored lures such as orange or chartreuse Rapalas or colorful flies like the Woods Special or the Montreal and have great trout action.  For salmon you can use the standard salmon rigging like copper Mooslooks or DB Smelts.  With lakes that have young alewives schooling in the shallows, lures like a small silver Rapala will work or small Gray Ghost streamer flies.
Here are some small trout ponds to try:  West Pike Brook Pond in Deblois, Spectacle Ponds in Deblois, Pineo Pond in Deblois, Upper Spectacle Pond in T 19 ED, Simmons Pond in Hancock, Upper Hadlock Pond in Mount Desert, Echo Lake in Mount Desert, Long Pond in Great Pond Plantation, and Youngs Pond in Otis.
For landlocked salmon I recommend the following:  Tunk Lake in T 10 SD, Green Lake in Ellsworth, Branch Lake in Ellsworth, West Grand Lake in Grand Lake Stream, Echo Lake in Mount Desert, Long Pond in Southwest Harbor, and Jordan Pond in Mount Desert.
Reminders: Remember many trout and salmon waters close to fishing at the end of September so this may be your last chance to fish them in the 2020 open-water season.
From August 16 to Sep 30, the general law for fishing in rivers, streams, and brooks is restricted to the use of artificial lures and flies only. General law length and bag limits apply, except there is a daily bag limit of one landlocked salmon and one brook trout.
Good luck!
Region D- RANGELEY
From Acting Fisheries Resource Supervisor Liz Thorndike
Places to go: September brings what many anglers have been longing for, cool nights and cooling water. Rivers such as Magalloway, Kennebago, and Rapid will begin to pick up as temperatures cool and fish become more active. Large lakes such as Rangeley, Mooselookmeguntic, and Aziscohos Lake can provide great fishing right till the end as trout and salmon make their way toward the inlets and outlets in preparation of spawning season.
If you're looking for an off the path experience, consider Cupsuptic Pond in Oxbow Township. The small 10-acre pond is just off the road and offers fast trout fishing. The trout average less than 10 inches, but the pond offers a remote experience that will get anyone hooked on trout fishing and perfect for first time fly fishing.
If you're looking for a challenge with the rewards of a quality sized brook trout, consider West Richardson Pond. The pond is often overlooked as anglers drive right by it and head toward better known fishing destinations but the pond's trout fishing shouldn't be overlooked. It's annually stocked with brook trout and they are known for holding over and can gain trophy size which will make any angler happy. Access is a convenient hand carry launch site off the Richardson Pond Road along the southern shore.
Outlook on the fall season: The Rangeley area along with much of the state needs rain and continued cool weather. Fall fishing action will depend heavily on these two factors and it could be mid- to the end of September before river fishing picks up, however pond and lake fishing can provide action much of the month.
Fishing tip: Fish will slowly begin breaking from their summer patterns as days get shorter and water gets colder. Trout and salmon will start their movement in the directions of spawning grounds instead of holding in colder water so depending on where you are don't necessarily target the deep water.
Be creative and patient, if you're fishing in an area that receives regular pressure it's likely the fish you're targeting have seen many of the same lures and retrieves.
Reminders: Play your fish respectfully, despite cooling waters many fish species are entering their spawning season and are under additional stress. Remember your fishing etiquette when out – don't crowd other anglers and provide ample space when passing or when fish are on the line.
From August 16 to Sep 30, the general law for fishing in rivers, streams, and brooks is restricted to the use of artificial lures and flies only. General law length and bag
Region E- MOOSEHEAD
From Fisheries Resource Supervisor Tim Obrey
Outlook on the fall season: I feel like 2020 has been "cross-threaded" right from the start and now we can add drought to the long list of grievances.  Festivus may require an extra day this year. The lack of rain has likely had an impact on our small shallow trout ponds this summer and it will definitely have a negative impact on the fall river fishing.  Free-flowing rivers, like the upper Moose River and the Piscataquis are exceptionally dry. There will be marginal fishing opportunities in these types of flowing water until we get significant rain.  Rivers below dams usually fare better in a dry fall because upstream impoundments have stored water and can provide flows to improve fishing.  This year's drought is severe, and some impoundments have little to give.
Each August, we consult with Brookfield and Kruger, the two hydropower companies with dams in the Moosehead Lake Region. Brookfield operates the dams on the Kennebec River and the West Branch of the Penobscot River and Kruger operates the dam at Wilson Pond.  Both of these companies are great to work with and they have a deep appreciation for the anglers. Together, we try to work out the best flows for the angling community.
Places to go and fishing tips: While there is not much fishing opportunity on Wilson Stream below Wilson Pond, the water release is essential for the upstream passage of spawning salmon in Sebec Lake, which is on the downstream end. There is a set of falls where Wilson Stream drops into Sebec Lake and it's very difficult for salmon to pass. We typically release water just after Labor Day, the end of the traditional summer recreational season, to attract salmon into the falls. We then decrease the flow and salmon can pass upstream. In very wet years, the flows can be excessive, and we have documented total failure. We will begin the drawdown on Sept 8 this year. It can be bittersweet to watch the salmon jumping at the falls.  They are impressive and committed, but many will perish attempting to pass the falls when the flow is too high. You can check out a couple short videos of the salmon at Early's Falls here.
We operate the dam at First Roach Pond which supplies the flow for the very popular Roach River. We have been at our summer minimum flow since filling the lake in late May.  Despite the low outflow all summer, the lake is about 1 ½ ft lower than normal.  We need to make sure that once we begin the release that there is enough storage to maintain the flow through September. We will likely have to hold off until around Sept 8 or 9 to begin the release on the Roach.
It's a similar situation on the Moose River below Brassua Lake and the West Branch below Seboomook Lake. The lakes are very low and approaching their minimum elevations as allowed in their licenses. We hope to get additional flow in both rivers around the middle of September, but we need some rain.  You can expect very low flows until then. This means about 200 cfs on the West Branch which is too low for most boats and canoes. It might be better to keep your powder dry and save your prop if you were planning a trip to the Foxhole in early September.
The East and West Outlets will have some water, thankfully. Moosehead Lake must be drawn down over the fall months to protect lake trout spawning and this translates to good flows in the East Outlet for fishing in September and October. The last few days have been cool and windy and surface water temperatures are dropping. Wet flies and nymphs will be the ticket early in the month.  Many anglers switch to gaudy streamers as the spawning urge for salmon and trout increases.
Reminders: It's important to remember that lake elevations will drop quickly as the fall drawdowns begin, especially if it's still dry.  Keep this in mind if you are a camp owner on one of these waters and you have docks or boats to remove.
From August 16 to Sep 30, the general law for fishing in rivers, streams, and brooks is restricted to the use of artificial lures and flies only. General law length and bag limits apply, except there is a daily bag limit of one landlocked salmon and one brook trout.
Region F- PENOBSCOT
From Fisheries Resource Supervisor Kevin Dunham
Places to go: East Grand Lake in Danforth, Forest City Twp., Orient, and Weston has historically been a destination for fall salmon fishing in the region.  Many a fine, feisty salmon has been boated on this 16,000-acre lake in Septembers past.  Pleasant Lake in Island Falls is another historically fast-action salmon water come September.  Both East Grand Lake and Pleasant Lake have very good boat access, though caution is warranted while motoring through the shallow section from the launch into the main lake at Pleasant. A recent fishery survey we conducted at Upper Togue Pond in T2 R9 WELS, at the entrance to Baxter State Park, yielded some hefty white perch in the 14" range. Across the road is Lower Togue Pond which has been producing some good splake fishing this summer with several being caught in the 17-18" range. Both Upper and Lower Togue Ponds have hand-carry, small boat access, and a 10-horsepower limit on outboard motors.
River fishing picks up in September as well. The West Branch Mattawamkeag River, between Mattawamkeag Lake in T4 R3 WELS and Route 2A in Haynesville is a great destination for fall brook trout and salmon angling.  Sticking with a west branch theme, the West Branch Penobscot River, particularly the short section of river from the dam at Elbow Lake to Quakish Lake (T3 Indian Purchase Twp.) holds an abundance of landlocked salmon. As an added bonus the daily bag limit on salmon is three fish and a minimum length of 12"; there is also a special S-13 regulation on this stretch of river meaning no size or bag limit on bass. There is a boat launch just upstream of the Route 11 bridge. This portion of the West Branch is also open to fishing in October through December, however all salmonids (trout, salmon, togue) must be released alive at once.  As always, consult the 2020 Maine Fishing Law book before you head out on any fishing trip.
Outlook on the season and fall fishing tips: Fall fishing can be some of the most enjoyable fishing of the year.  Low humidity and warm, comfortable bug-free days are an ideal time to take to the water and appreciate some late season angling.  Ideal daytime angling conditions coupled with chilly nighttime water-cooling temperatures virtually guarantee an enjoyable trip, even if you don't catch any fish.  Cooler water temperatures of September trigger many fish, especially salmonids such as trout and salmon, to increase activity and expand their range in preparation for spawning.  Not only are the decreasing water temperatures bringing fish closer to the surface, but fish readying for spawning will begin moving into shallower water as well.  For salmonids try fishing in shallower than normal water as well as closer to shore than usual during sunrise and sunset and you may just catch more fish.
Reminder: From August 16 to Sep 30, the general law for fishing in rivers, streams, and brooks is restricted to the use of artificial lures and flies only. General law length and bag limits apply, except there is a daily bag limit of one landlocked salmon and one brook trout
Region G- FISH RIVER LAKES
From Fisheries Resource Supervisor Frank Frost
Outlook on the fall season: After a hot, dry summer northern Maine is getting some reprieve now with cool temperatures and some rain that might bring waterways up to normal levels. This bodes well for late season brook fishing. General law on rivers, brooks and streams changed on August 16 to artificial-lures-only (ALO) with a daily bag limit on brook trout of one fish. Our region in northern Maine has an estimated 7,000 miles of flowing water with abundant brook trout in much of this resource.
Places to go: Captain Ambrose Bear Stream (formerly B Stream) in Houlton, Littleton, and Hammond; Presque Isle Stream in Presque Isle, Chapman, and T10R3 WELS; and Rocky Brook in T19R12 WELS and T18R12 WELS.
Fishing tip: North Maine Woods has an abundance of flowing water to fish late season. I mentioned one above, Rocky Brook, but throughout the 3.5 million acres there are thousands of miles of rivers, brooks and streams to fish. After a brutally hot and dry summer, some trout populations have certainly declined. The waters that fared the best through this tough time are those with good groundwater sources that would have kept water temperatures low enough for trout survival until cooler fall weather arrived. Also, do some research by looking at aerial photos before venturing out; those waterways with good buffering from nearby forest management activity likely did well. Avoid waters where recent cutting activity has removed vegetation up to or very close to the water. If you venture into North Maine Woods, check out their website and especially the notice about the upcoming seasons https://www.northmainewoods.org/
Reminder: From August 16 to Sep 30, the general law for fishing in rivers, streams, and brooks is restricted to the use of artificial lures and flies only. General law length and bag limits apply.
For more articles about fishing, hunting and the outdoors, be sure to subscribe to our monthly publication, the Northwoods Sporting Journal.
To access  digital versions of the Northwoods Sporting Journal, click here.