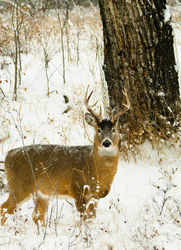 As another deer season comes to a close, it is time to sit back and reflect on all the places hunted and sights that were seen. For me, the memories created during the deer season are as important as the hunt itself. I can do my Monday morning quarterbacking and think about what I should have done instead of what I did do. I also lay down plans in my mind for next season. There might be a place I want to get back to where I found some good buck sign or there might be a place a never got the chance to get to. In either case planning for next season is what keeps me going for another year.
I also love to swap stories with other hunters. If you listen to another hunter's story you just might learn something new. Sometimes when I'm listening to a story, I think to myself why didn't I think of that. In deer hunting, whether tracking, still hunting or sitting in a stand, there is always more than one way to shoot a deer. I read this quote once and never forgot it. "When you're done learning, you're done".
In last month's column, I told you about letting a buck go in the Adirondack's. After that it was a long wait before the snow finally hit Jackman for Monday of Thanksgiving week. I had plenty of places that I want to look for a track but it's always a matter of picking the right place where a buck traveled. I walked all day Monday without ever seeing a buck track. I also began to feel that tugging in the back of my throat like a cold was developing. By Tuesday morning my fear of it was confirmed with plugged sinuses and ears. I struggled through the next few days with no energy and in a constant sweat. I did manage to catch up to one buck but only got to see him for one jump.
Usually a head cold only hits me for a couple days, but this one had a real grip on me and by Friday I was no better. I usually hit the woods to pick up a track, but that strategy wasn't working very well as by the time I had found a track I wanted to follow, I was already half beat. Friday I decided to try and find a track from the road so I'd be fresh when starting on him. I drove back into a remote area and found when three bucks had all come into the road where a hot Doe had been. It was track soup with the bucks back and forth in the road and circling everywhere. It had snowed a little in the night and there was no snow in the tracks, so I knew they were no more than a couple hours old. Instead of trying to follow a track from there, I made a big circle around the area and cut a good track coming out. I knew it wasn't the biggest buck in the woods, but with two days left for rifle season and feeling the way I did, I took it. I decided that if he had a good set of antlers that I was going to take him.
The buck wandered down and old winter road that another buck had also been. The one I was on was a little bigger and he finally split off and headed down into the green growth by a brook. I eased along on the track as the buck crossed the brook a couple times. Then I came to his bed with his track walking out of it. I knew this was going to be my chance to make it happen. I figured the track could not be more than fifteen minutes old so I crept along peeking into every skidder trail before stepping out into it. He went about a mile in fairly straight line before turning up a ridge into some old cuts. He soon began to wander back and forth in the cut so I knew he was going to be close. He worked his way up hill into an old small beech clear cut. At the top, he started feeding and that's when I could see his horn marks in the snow and that's when I knew that I would shoot him if I got the chance.
I had only gone about twenty steps up a little rise when I spotted a nice antler and nose sticking out from behind a birch stump at fifty yards. I leaned out to the left far enough to see his neck right behind his ear. There were a few snow covered raspberry bushes in the way but I figured I could shoot through them. I put the bead close to the stump and right behind the ear and touched off the old 7600 carbine. At the shot, the buck never moved. Instantly I suspected that I had shot into the stump. Another round was already racked in and I leaned out a little more until I could see the base of his neck and sent another 180gr core-Lokt on its way. This time the buck disappeared. I thought he must have dropped but was on a dead run down through the cut to make sure. As I ran past the stump, I could see the buck was down making his last kick.
I got down on my knee and thanked the good Lord for bringing me such a beautiful buck. He was wide, with 8 points and a very symmetrical rack. It was noontime, so I sat down and ate my 10 o'clock sandwich that I couldn't take the time to eat while tracking. It had been a long struggle that week but by sticking with it I managed to make it happen. The good news was now that it was only about a 1/3 mile drag to the road and I had all afternoon to do it, just like last year's buck, I knew he had lost weight and would be lucky to weigh 200 pounds. At Bishop's store, the tagging station in Jackman I confirmed it when he tipped the scales at 196 pounds. I made another memory that I will never forget!
Until next month, good luck on the trail!
Hal is Master Maine Guide, Author and President of Big Woods Bucks. He lives in Moose River Maine with his wife Deb. He can be contacted at [email protected]
For more articles and stories about hunting, fishing and the outdoors, be sure to subscribe to our monthly publication the Northwoods Sporting Journal.
To access past copies of the Northwoods Sporting Journal in digital format at no charge, click here.