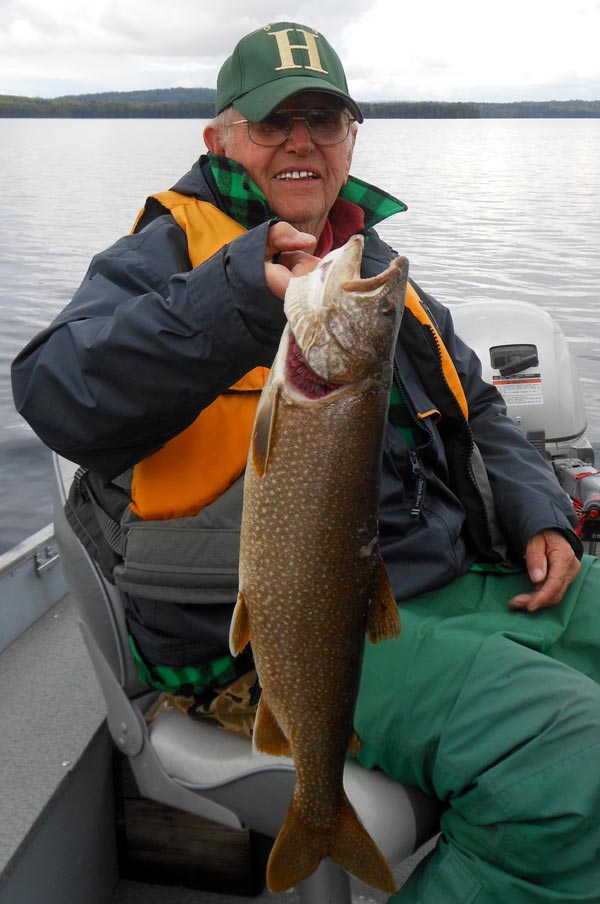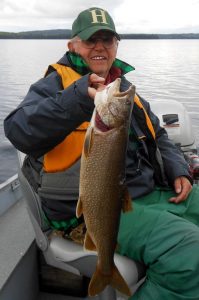 Region A – Sebago Lakes Region
"We were conducting our bass electrofishing surveys last week and bass are actively spawning. Water temperatures were in the mid- to high 50s last week. Smallmouth bass typically spawn when the water temps hit 50, and largemouths spawn in a little warmer water, around 55," said Brautigam.
Auburn Lake continues to produce good action for salmon and some lake trout.
Out on Sebago, it's been a good spring if not a little inconsistent.
"It's been hot and cold, but recently it has been very good," said Brautigam.
Region B – Central and Midcoast Area
If you like river fishing, the reports from portions of the Kennebec are glowing.
"In Madison, anglers are catching good numbers of brown trout, with many of these fish around 18 inches," says Seiders.
However, it is the rainbows in the Bingham area that has people really talking.
"The fishing in Bingham has been exceptional," said Seiders. "Anglers are catching some unusually large rainbows."
Many of these rainbows are in the 20-24 inch range, but Seiders received on report of a rainbow at 28 inches.
Region C – Downeast
If you're looking for salmon, Burr mentioned Branch Lake in Ellsworth, and Long Pond in Mount Desert Island as good choices, as well as Beech Hill Pond, Cathance Lake and Donnell Pond. Brown trout can be found in Walker Pond in Brooksville and Molasses Pond in Eastbrook. Tunk Lake is producing some nice salmon and togue, and West Grand is producing some big togue. West Musquash is another pond with good access with some nice salmon and wild togue. Some of the togue in West Musquash have tipped the scales at over 20 pounds.
Region D – Rangeley Lakes
Up in the Rangeley Lakes region, anglers have been landing some big fish.
"One angler caught a four-and-a-half pound salmon on Rangeley Lake, and there have been several brook trout over three pounds caught on Mooselook," said IFW fisheries biologist Liz Thorndike.
Rangeley usually offers the fastest fishing early in the spring, and then the other area lakes start to heat up. With water temps still in the low 50s, anglers are still catching fish on Rangeley as well as other locations too.
"We are surveying anglers on Aziscohos, and every boat we talk to has been producing fish," said Thorndike, who added that Aziscohos is one of those waters that has a productive coldwater fishery that extends well into the summer.
Trout anglers who are looking for something a little different ought to try Jackson Pond in Concord. This small pond is off the main road, but just a short walk along the outlet to the pond. The pond was recently stocked with trout fry, but while there earlier this week, Thorndike noticed several nice rises from trout that had been stocked in past years.
Region E – Moosehead Region
"Good reports of fishing on Moosehead, primarily in the Rockwood area, as salmon and togue staged off the mouth of the Moose River during the smelt run," said IFW fisheries biologist Tim Obrey. "We are also hearing accounts of flying ants in the stomachs of salmon and togue on Moosehead."
With flying ants already hatching, usually caddis flies aren't far behind. "Caddis flies usually make their first appearance of the summer in early June on our rivers and trout ponds," said Obrey.
"Gravel Pit Pond in Greenville is stocked several times in the spring and there should be plenty of fish this weekend," said Obrey, "Also, Prong Pond, the Sebec River, Piscataquis River, and Drummond Pond are all good spots to fish in the Dover-Foxcroft to Greenville area."
"If you're in Jackman, head over to Big Wood Pond, Sandy Stram, or Heald Stream as they should be loaded with brook trout," said Obrey.
Region F – Penobscot Region
Are you in the Orono area this weekend and looking to go trout fishing? The department recently stocked 500 brook trout in the Stillwater River in Orono.
If you're not in Orono, don't fret, there are plenty of other waters that are experiencing good to excellent salmon fishing according to Kramer, including Cold Stream Pond, West Lake, Duck Lake, East Grand Lake, Shin Ponds, Millinocket Lake and Schoodic Lake.
Brook trout fisherman will want to try Matagamon Lake, Scraggly Lake, and just about any pond throughout Baxter State Park. Looking to take the kids fishing and bring home some trout? There are numerous Kids Only Ponds in the Region, including Harris Pond in Milo, Edwards Pond in Lincoln, Pickerel Pond in T32 and many, many more.
Region G – Aroostook Region
"All the district game wardens say that fish are being caught all over," said Frost.
Of note was an 18 pound togue that was landed on Eagle Lake, which has been the largest fish of the spring.
Out on area rivers, conditions are about as good as it gets.
"The Aroostook is lower than normal, but very fishable," said Frost. "It's near ideal temperature and flows."
Other rivers that anglers may want to try include the Meduxnekeag in Houlton and the east branch of the Mattawamkeag in Smyrna.
For more articles and stories about hunting, fishing and the outdoors, be sure to subscribe to our monthly publication the Northwoods Sporting Journal.
To access past copies of the Northwoods Sporting Journal in digital format at no charge, click here.
---
The author is editor of the Northwoods Sporting Journal. He is also a Maine Guide, co-host of a weekly radio program "Maine Outdoors" heard Sundays at 7 p.m. on The Voice of Maine News-Talk Network (WVOM-FM 103.9, WQVM-FM 101.3) and former information officer for the Maine Dept. of Fish and Wildlife. His e-mail address is [email protected] . He has two books "A Maine Deer Hunter's Logbook" and his latest, "Backtrack." Online information is available at www.maineoutdoorpublications.com