Deer Stalking in Scotland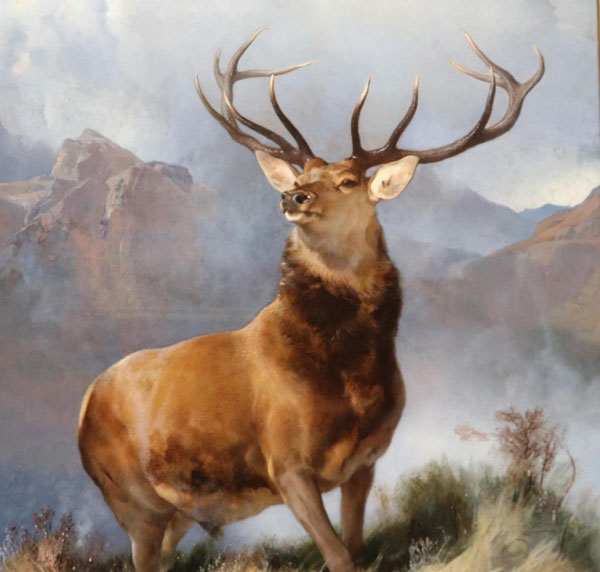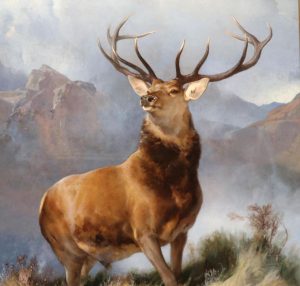 Europeans demand a high code of hunter ethics. One must pass an exam for a Deer Stalking Certificate to obtain a required firearms certificate to hunt in Great Britain. Those hunting on government Forestry Commission Land must pass both the beginners and advanced course.
In 1789, Robert Burns penned the famous chorus My heart's in the Highlands, my heart is not here, My heart's in the Highlands, a-chasing the deer; Chasing the wild-deer, and followin' the roe, My heart's in the Highlands, wherever I go. Indeed, the granite-capped Highlands of Scotland tug at your heart strings. This heather-cloaked expanse of rugged, treeless country entices the visitor to wander the misty glens and moors or go "hill walking" to craggy peaks with unpronounceable Gaelic monikers. But for a white-tailed deer hunter visiting Scotland for the first time, I dreamed about stalking the majestic red deer.
These relatives of our North American elk are a unique species native to Scotland and northern Europe. Red deer are smaller than elk; stags average about 400 pounds compared to a 720-pound bull elk. Red deer antlers have unique architecture that terminates in a "crown" of points at the tips.
We frequently encountered red deer in the Highlands and sometimes in the forested districts of Scotland. Like our deer, they are active in the morning and evenings when their squeals, barks, and bellows echo through the glens. They are a talkative deer. From our bed and breakfast at Torridon we watched bands of red deer ebb and flow like the sea mist in and out of the mountains every morning and evening.
Before considering a deer stalking adventure in Scotland, it is important to appreciate the significant differences in managing and hunting big game there. Wildlife is the property of the landowner, and is not a public resource. Much of the open space in the Highlands is in large, private estates each with their own centuries-old hunting lodges. Following Scotland's failed bid for independence in 1745, the Highlands were cleared of crofters and small farmers whose land became the hunting and fishing playground for the British and Scottish elite who took sides with the English monarchy.
Traditionally, a game manager was hired to cull and manage the deer herd on the estates in a highly regulated manner. Now red deer stalking is a £125 million a year industry available to both the wealthy and commoner. Hinds (females) have the most liberal season, October 21 to February 15, and are the most economical hunt. A day in the field costs £90-125 ($115-160). Stags are hunted from July 1 to October 20 for a similar daily fee. To harvest a "trophy standard" stag, you'll pay £50-70 per point. A "royal" 12-point stag costs upwards of £850 ($1,100) and an "imperial" 14-point stag far more. There are lesser fees for culling animals with inferior body and antler growth. Red deer hunts can be combined with roe, sika, and fallow deer hunts. Other fees apply for United Kingdom hunting insurance and firearms certificate (required). The Scots drive a canny bargain.
Europeans demand a high code of hunter ethics. One must pass an exam for a Deer Stalking Certificate to obtain a required firearms certificate to hunt in Great Britain. Those hunting on government Forestry Commission Land must pass both the beginners and advanced course. Experienced stalkers teach the principles of deer stalking, identification, deer management, gun handling, safety and the art and skills of deer stalking. All hunters must demonstrate proficient marksmanship and do exactly as the "stalker" says. Wounding a stag or shooting the wrong deer will cost you an extra £200, and you will be charged full price if the wounded animal cannot be found.
Scottish red deer hunting is steeped in tradition. Hunters stay at quaint stone lodges having exquisite accommodations. Castle-like walls are adorned with suits of armor, giant claymore swords, and row-upon-row of antlers. Hunters clad in traditional green-brown tweeds are under the watchful eye of a stalker and ghillie. They decide which deer to shoot, taking into account the health, age and sex of the herd. After the kill, the ghillie's job is to "gralloch" the deer and transport it back to the estate on his pony. Venison is served for dinner. A wee dram of Glenfiddich in front of a roaring fire tops off a day of hunting.
The first step in organizing a Scottish red deer hunt is finding a landowner host…for a fee of course. Throughout Scotland we saw signs marking the boundaries of Deer Management Groups; where multiple landowners manage red deer populations and offer hunting opportunities. These groups conduct an annual count of all the deer in the area that serves as a basis for setting the harvest. According to Scottish law, they manage deer according to a code of best management practices. Landowners are required to manage deer sustainably and within the carrying capacity of their range.
Scotland is home to a population of 500,000 to a million deer that is steadily growing. Over 100,000 are harvested annually. Government agents must be employed to cull some herds. In the absence of large carnivores, harvesting must take place to create an ecological balance, maintain public safety, and protect crops.
An essential and meaningful part of my hunting experience is processing and utilizing the venison. Most red deer venison is the landowner's property and is sold to butchers or to meat wholesalers. You could negotiate to purchase the meat from your red deer, but it will be difficult to bring it back to the United States. The importation of fresh, dried or canned meats or meat products is generally not allowed from most foreign countries into the United States. For this reason, I will probably hunt my Scottish red deer with binoculars and camera.
For more articles and stories about hunting, fishing and the outdoors, be sure to subscribe to our monthly publication the Northwoods Sporting Journal.
To access past copies of the Northwoods Sporting Journal in digital format at no charge, click here.
---
Mark McCollough spent several evenings with the red deer in Scotland in 2018 and saw the Monarch of the Glen, a painting completed in 1851 by the English painter Sir Edwin Landseer. Mark can be contacted at [email protected].