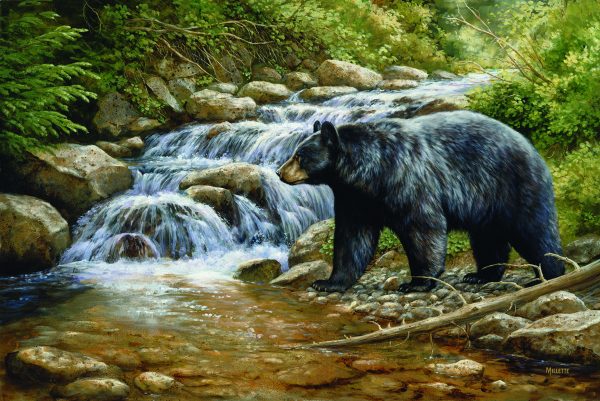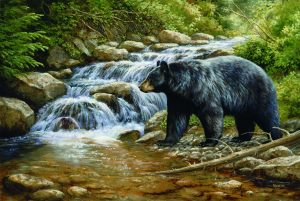 By Jerome Richard
About 3 to 4 days before the hunt starts, I cut back hard on the bait by leaving only 1/3 of the normal bait in order to draw the bear out earlier during legal hunting hours.
Bear season is here again! Whether you hunt over bait with a firearm or bow, trap, or use hounds it can be a great time of the year prior to the deer season. For me it was great to be on stand with the mild temperatures and great cover of the leaves still on the trees. The 30-days prior to the season came with some work of sitting up stands, trimming a shooting lane, and sitting up the bait site, but it was worth it once I was on stand for the opening day.
Some of you might remember last year's article where I pointed out asking potential guides services about their hunts or for hunters just getting into doing the bear hunt themselves. Personally, I like doing my own setups and my own personal challenge of drawing in a big bear. Just the challenge of get the big bear to my site and during legal hunting hours is part of the sport especially when using my archery equipment at 15-20 yards.
One thing I really like about doing my own bear hunts is that I have had great luck by using the same sites year after year. When I pass up the younger bears in hopes of a bigger bear it is more likely the younger ones will return next year or for a few more years until they become shooters. Those repeat sites don't seem to take much to keep them active and ready to refresh for "start up bait" too. I noticed in the spring some of my sites get hit by bears coming out of hibernation and quickly returning to the site by last year's scent of grease and molasse cling to the tree bark and roots.
I don't like using meat scrapes on my bait sites because I have had mixed result where some years it was great and other years it didn't help. One old trapper friend of mine freezes beaver carcasses during his trapping season and then uses them for bear bait. He always said "everything likes a little beaver" and it appears he was right. I have strapped a beaver carcass to a tree trunk and wrap it with some chicken wire and sure enough the bears coming in to beavers! I use to go around summer outdoor parties where people had a lobster and steamer feed going on and offer to "dispose" of the lobster and clam waste by putting on my bait sites, but that was such a hassle, so beavers are a better choice for me.
I only use fresh bait, not junk that is stale or been stored for months on end. I have never seen a bear turn down marshmallows and fresh donuts. Two guaranteed items at my site are raspberry coconut Zingers and marshmallows at the bottom of the drum with a good covering of donuts. The drum is covered with logs to prevent raccoons and coyotes from getting into the bait. I cover the ground with some sugar beet molasses so all the other critters act as my calling card to my bait site. Every trip to the bait site I always spray the evergreens with anise spray to let them know I stopped by with fresh bait. I also only bait in the morning hours just as the sun rises – never mid-day or in the afternoon. About 3 to 4 days before the hunt starts, I cut back hard on the bait by leaving only 1/3 of the normal bait in order to draw the bear out earlier during legal hunting hours.
I don't store up bait except for the beavers from trapping season. My method of getting fresh bait at local discount stores may be expensive compared to others, but by using the repeat sites I don't have much wasted in getting quick results. I'll setup my stands and chain the bait barrel to trees far in advance of the bear season and then when it's time to legally set the bait, I only need to walk out and bait the site and not worry about wasting time sitting the stand and trimming shooting lanes on that first day of baiting.
Coming opening day of bear hunting over bait, I'm sitting on stand with my bow knowing a decent size bear will show up and at close range with a bow it is pure excitement to be that close and watch the animal before deciding whether to take the shot!
_______________
Jerome Richard is a bowhunter from Clinton, ME. He is past president of the Maine Bowhunters Association, Master Outdoor Safety Education Instructor for IF&W, Registered Maine Guide, and a Licensed Professional Engineer. He can be reached at [email protected].
For more stories and articles about hunting, fishing and the outdoors, be sure to subscribe to our monthly publication, the Northwoods Sporting Journal.
To access past copies of the Northwoods Sporting Journal in digital format at no charge, click here.